Overview
(October 4, 2018, Washington, DC) — Steptoe & Johnson LLP is pleased to announce that Joe Caldwell has been elected to the American College of Trial Lawyers' (ACTL) board of regents. Caldwell and three other new members, who join 11 existing regents from the United States and Canada, were elected to the board at the ACTL's annual meeting held in New Orleans on September 27-30.
The management of the ACTL, which has more than 6,000 fellows in the United States and Canada, is vested in a board of regents, consisting of five officers and 15 regents. The regents are elected for four-year terms and have an assigned jurisdiction of states and/or provinces, as well as liaison responsibility for a number of general committees.
At Steptoe, Caldwell focuses his practice on complex civil litigation and white-collar criminal defense and investigations. Having litigated more than 100 jury trials, Caldwell represents clients in federal and state courts and before congressional committees, administrative agencies and arbitration tribunals. He also serves as co-chair of Steptoe's Diversity Committee and is engaged in numerous pro bono activities. In addition to Caldwell, Steptoe partners Brian Heberlig, Jim Hibey, Chris Niewoehner, Roger Warin and Reid Weingarten are fellows of the ACTL.
The ACTL is comprised of the best of the trial bar and is widely considered to be the premier professional trial organization in North America. Founded in 1950, the ACTL is an invitation-only fellowship. The college thoroughly investigates each nominee for admission and selects only those who have demonstrated the very highest standards of trial advocacy, ethical conduct, integrity, professionalism and collegiality. The college maintains and seeks to improve the standards of trial practice, professionalism, ethics, and the administration of justice through education and public statements on important legal issues relating to its mission. The college strongly supports the independence of the judiciary, trial by jury, respect for the rule of law, access to justice, and fair and just representation of all parties to legal proceedings.
About Steptoe
In more than 100 years of practice, Steptoe has earned an international reputation for vigorous representation of clients before governmental agencies, successful advocacy in litigation and arbitration, and creative and practical advice in structuring business transactions. Steptoe has more than 500 lawyers and other professional staff across offices in Beijing, Brussels, Chicago, London, Los Angeles, New York, Phoenix, San Francisco, and Washington. For more information, visit www.steptoe.com.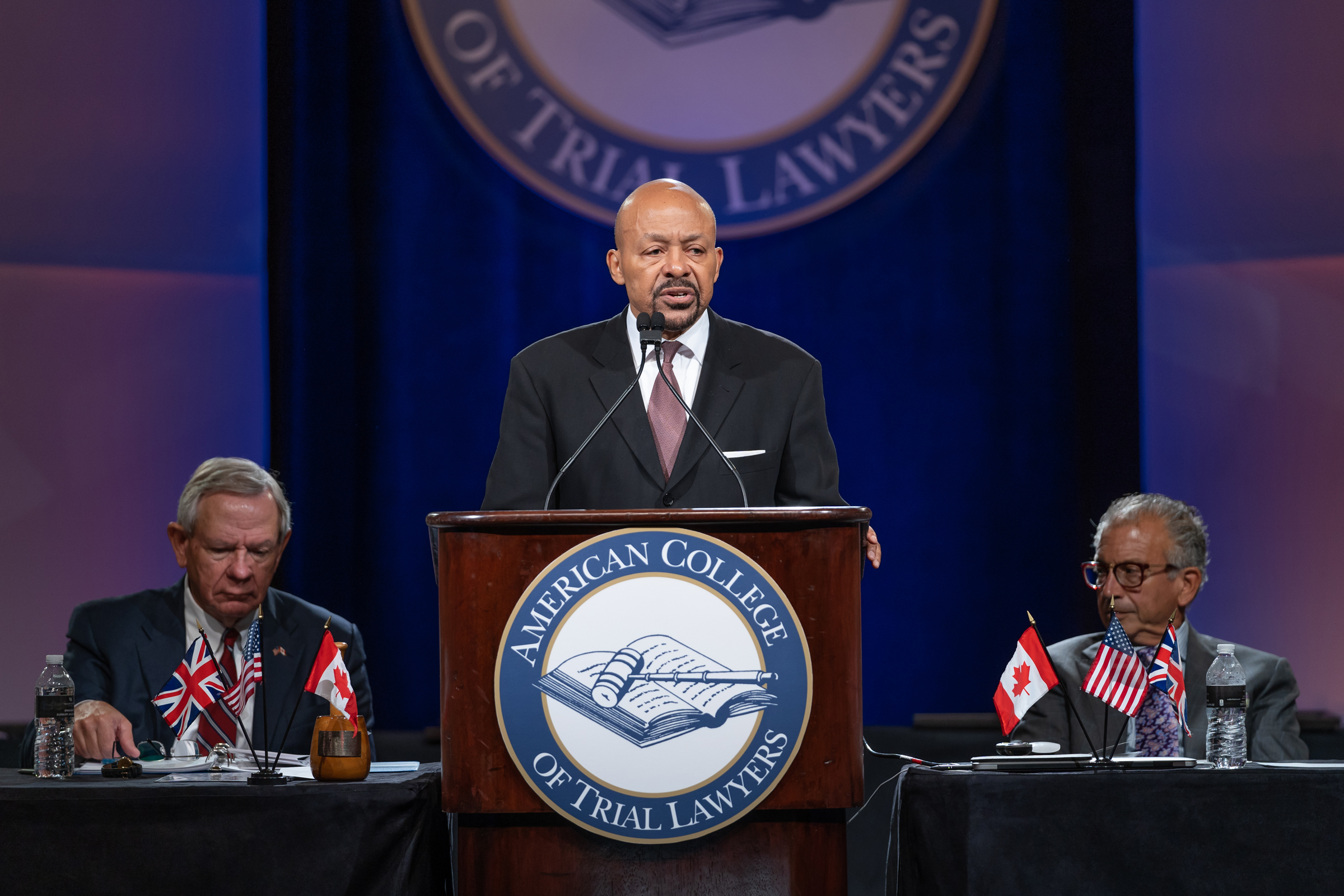 Steptoe partner Joe Caldwell is flanked by ACTL President Sam Franklin and President-Elect Jeff Leon at the ACTL's 68th Annual Meeting in New Orleans.