Professionals Cited
New York Foster Care Agency Honors Three Steptoe Lawyers for Pro Bono Work
April 11, 2014
Three lawyers in Steptoe's New York office have been recognized for obtaining the dismissal of a lawsuit filed against Forestdale, Inc., a 160-year-old nonprofit foster care agency currently serving about 1,000 New York City children. Steptoe partners Mike Miller and Evan Glassman, and associate Lisa Sandoval were honored on April 9 at the Forestdale Annual Benefit, held at the Housing Works Bookstore in New York City.
In September 2011, eight children who had been placed in foster care by Forestdale following allegations of parental abuse were kidnapped by their natural parents. The subsequent multi-state FBI manhunt was highly publicized. In September 2012, after proceedings commenced to terminate the parental rights of the natural parents, the natural mother sued Forestdale on behalf of the children in New York State Supreme Court, alleging that the children were abused in their foster home.
Steptoe represented Forestdale and successfully petitioned the court to appoint a guardian ad litem to act on behalf of the children. The guardian ad litem met with the children, reviewed Steptoe's evidence disproving the allegations in the lawsuit, and adopted Steptoe's recommendation that the case be dismissed. In December 2013, the case was dismissed.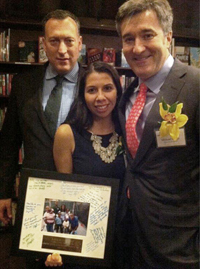 Steptoe's Evan Glassman, Lisa Sandoval and Mike Miller. Photo courtesy of @Forestdaleinc.