Professionals Cited
Steptoe Receives 2016 ABA Death Penalty Representation Project Award
(September 16, 2016, Washington, DC) — Steptoe & Johnson LLP has received the American Bar Association (ABA) Death Penalty Representation Project's 2016 Exceptional Service Award for providing "high quality legal representation to prisoners on death row." The firm, which was unanimously selected for the award, was honored at a dinner held September 15 at the Decatur House in Washington celebrating the 30th anniversary of the ABA Death Penalty Representation Project.
The Death Penalty Representation Project is the ABA's expert on issues related to the defense effort in death penalty cases. Since 1986, its singular focus has been to improve the quality and availability of legal representation for persons facing possible death sentences.
Over the course of the past decade, Steptoe has had at least one case – and usually several cases – referred by the ABA Death Penalty Representation Project on its docket. During that time, the firm has represented death row inmates in Alabama, Delaware, Pennsylvania, Texas and Virginia. One of its more high-profile cases was that of Teresa Lewis, the first woman on Virginia's death row in close to a century.
Steptoe partner Jim Rocap, who chairs the firm's public service committee, represented Ms. Lewis in her plight. In a 2011 article in The National Law Journal, he acknowledged the emotional toll death penalty cases take on an attorney, saying, "Originally, I took on these cases because I just wanted to be sure [death row inmates received high quality representation]. These are people facing the most serious thing that can happen to them. They deserve a chance. But after they killed Teresa, I now believe our system is broken in a very bad way."
Mr. Rocap accepted the award on the firm's behalf along with Bill Abrams, who serves as managing partner of Steptoe's Palo Alto office. Mr. Abrams, who is currently representing two men on death row in Alabama, is a long-time advocate for individuals on death row and serves on the board of the Southern Center for Human Rights.
In accepting the firm's award, Mr. Abrams called the volunteer lawyers "the best of our profession." He also made the point that working on death penalty cases, where losing has dire consequences, makes him a better lawyer. "We all serve our clients better for doing this work," Mr. Abrams said.
Other Steptoe partners who have led Steptoe teams representing death row inmates over the past decade include Steve Brose, Boyd Cloern, Matt Herrington and Jim Hibey.
Steptoe has a long and rich tradition of public service that is an integral part of the history, ethic, and operation of the institution. The firm is a charter signatory to the Law Firm Pro Bono Challenge, and was one of the very first law firms in the world to have a lawyer with full-time responsibility for the firm's pro bono program. Over the past 15 years, the firm has donated more than 30-thousand hours of its lawyers' time and resources representing capital clients.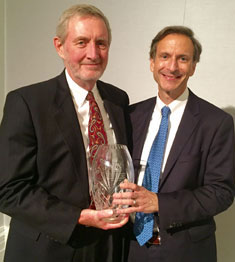 Steptoe's Jim Rocap and Bill Abrams
About Steptoe
Steptoe & Johnson LLP is an international law firm widely recognized for vigorous advocacy in complex litigation and arbitration, successful representation of clients before governmental agencies, and creative and practical advice in guiding business transactions. The firm has more than 500 lawyers and other professionals in offices in Beijing, Brussels, Chicago, London, Los Angeles, New York, Palo Alto, Phoenix and Washington. For more information, visit www.steptoe.com.