Professionals Cited
Related Practices
Phoenix Business Journal Names Tim Overton to '40 Under 40' List
(October 11, 2016, Phoenix, AZ) — Steptoe partner Tim Overton has been named to the Phoenix Business Journal's "40 Under 40" list for 2016. The list, published October 7, recognizes 40 individuals under the age of 40 who have had a major impact in the Valley's business community through their careers and impacted the greater community. Mr. Overton and the other honorees were recognized at an awards ceremony held October 10 at the Talking Stick Resort Arena in downtown Phoenix.
Mr. Overton is an experienced commercial litigator who has handled a variety of matters in both state and federal court. His most substantial trial experience has involved complex commercial disputes, including breach of contract and related actions where ownership of entities, properties, and other assets were at stake. He also has substantial experience defending major product manufacturers from significant tort claims and defending employers from employment and compensation-related claims. Additionally, Mr. Overton has experience enforcing and defending non-competition, non-solicitation and confidentiality provisions in employment agreements, as well as advising employers and employees regarding when such enforcement is beneficial. Mr. Overton also has extensive experience in representing and helping creditors to obtain and collect on judgments.
Mr. Overton has litigated multiple matters in Indian courts in Arizona and Oklahoma. He has also counseled ministries and other religious organizations as they attempt to negotiate complex commercial legal issues. For the past two years, Southwest Super Lawyers has recognized Mr. Overton as a Rising Star in business litigation.
This is the 16th year the Phoenix Business Journal has honored young business leaders through the 40 Under 40 program, with nearly 400 nominations submitted this year alone.
Read the full profile on Mr. Overton at the Phoenix Business Journal (subscription required).
About Steptoe
Steptoe & Johnson LLP is an international law firm widely recognized for vigorous advocacy in complex litigation and arbitration, successful representation of clients before governmental agencies, and creative and practical advice in guiding business transactions. The firm has more than 500 lawyers and other professionals in offices in Beijing, Brussels, Chicago, London, Los Angeles, New York, Palo Alto, Phoenix and Washington. For more information, visit www.steptoe.com.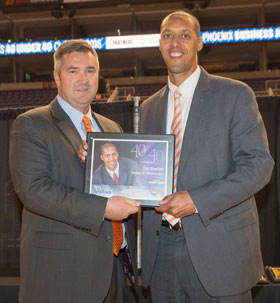 Steptoe partner Tim Overton receives "40 Under 40" award