Overview
Tax reform is both complicated and infrequent — by most estimates, it occurs about once every 30 years. For most of the millennial generation, those of us between the ages of 18 and 36, the Republican-led tax package that passed in December is the first significant tax reform effort of our lives. As the tax bill is implemented in the coming months, the major question is: How will it affect us?
Below, we've laid out eight provisions of the tax bill that will help determine how much avocado toast we can all buy in 2018, whether we'll ever be able to stop renting — or living with our parents — and if we'll ever pay off our student loans.
As you read this, keep in mind that most of the following provisions will expire at the end of 2025, unless Congress extends them.
1. Your Tax Bracket Has Probably Changed, and You'll Likely See a Tax Cut
In general, millennials are likely to see a tax cut beginning this year, but those who make more money will receive larger tax cuts, on average. The tables below show exactly how tax rates have changed, depending on your annual income.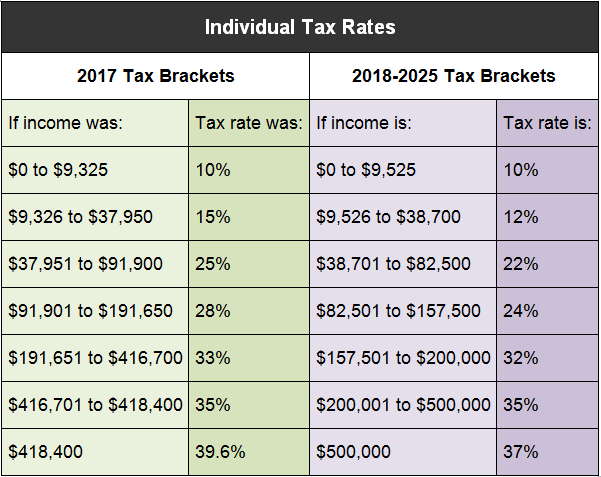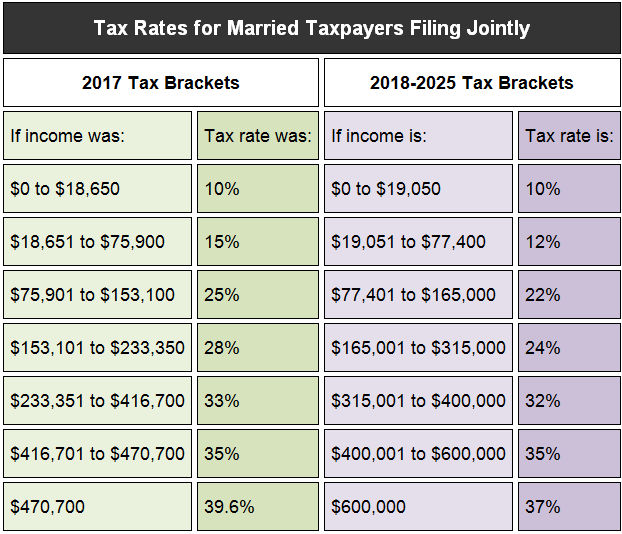 2. You're More Likely to Claim the Standard Deduction
Every year during tax filing season, taxpayers must decide whether to take the standard deduction — a specific dollar amount that lowers individuals' taxable income — or whether to itemize deductions — that is, list out every deduction (e.g., home mortgage interest, certain state and local taxes, and charitable contributions) for which they are qualified — with the goal of lowering their tax burden as much as possible.
In general, if the standard deduction is greater than the sum of your itemized deductions, you should take the standard deduction. If it's less, you should itemize. For many people, the standard deduction is larger (not to mention simpler to file), but some households — especially those with higher incomes — may save more by itemizing.
In the tax bill, lawmakers nearly doubled the standard deduction for individuals, raising it from $6,350 to $12,000, and for married couples filing jointly, increasing it from $12,700 to $24,000. Based on these changes, even more taxpayers will take the standard deduction rather than itemizing because their total deductions are unlikely to exceed the new standard deduction thresholds.
So what does this mean for millennials? If you already took the standard deduction, you'll probably continue to do so. If you itemized, you will generally be better off taking the standard deduction, unless the sum of your deductions — many of which are discussed below — exceeds the value of the standard deduction.
3. You May Have Less of an Incentive to Give to Charity — Though You Still Can
Although the tax bill doesn't prevent you from giving to charity, it changes the incentives by making itemizing less appealing. This matters for charitable giving because you can only get the deduction for donations if you choose to itemize. So, people who don't itemize may opt not to give as generously — or at all — without the benefit of a tax break. The Council on Foundations has estimated that this could result in a loss of $16 billion to $24 billion every year in charitable contributions.
Millennials who earn enough to itemize are likely to keep donating, since they will get the tax break. Millennials who used to take the standard deduction and still donated are also likely to keep doing so — because they never had an incentive in the first place. As for millennials who may now be better off taking the standard deduction — you can certainly keep donating, you just can't deduct it.
4. Now is Not the Time to Move to a State with High Sales, Income or Property Taxes
Prior to the reform effort, individuals could deduct sales, income, and property taxes paid to their state and local governments. The tax bill retains this deduction — known as SALT — but caps it at $10,000. This change will particularly affect wealthy people living in high-tax states — like California, New York and other millennial hubs — where state and local taxes paid can often far exceed the $10,000 cap.
So, how (and whether) this new threshold impacts you depends in large part on where you live.
5. The Tax Bill Won't Really Change Your Homeownership Prospects
The tax bill's biggest change for current and future homeowners is a reduction to the mortgage interest deduction. Before tax reform, a homeowner could deduct the amount he or she paid in interest on a home loan of up to $1 million. The tax bill lowered the cap to $750,000.
Will this impact your ability to purchase a home? Probably not. In recent years, only 5 percent of Americans applied for mortgages larger than $500,000. So, the reality is that lowering the mortgage interest deduction cap is likely to have little to no impact on most homeowners nationwide. And, if you owned a home before Dec. 15, 2017, it's not going to impact you at all — unless you're in the market for a new home.
6. Provisions Affecting Your Student Loans Remain More or Less The Same
Millennials are the most educated generation to date and also the most indebted, so the many provisions in the tax code that touch higher education really matter. The good news — and maybe the bad news, too — is that the tax bill didn't really change anything.
For example, if you take advantage (or plan to take advantage) of the student loan interest deduction, which allows qualified student borrowers to deduct up to $2,500 in student loan interest per year, keep doing it. For those thinking about this deduction, note that you can still take it even if you choose not to itemize!
Similarly, the American opportunity tax credit and the lifetime learning tax credit, both of which offset certain post-secondary educational expenses, didn't change.
And, if your employer is paying money towards your education — congratulations, by the way — up to $5,250 of that annual payment is still tax free. Any payment over $5,250, however, remains taxable as part of your income.
Unlike most of the other provisions referenced in this article, these deductions and credits do not expire at the end of 2025.
7. The Child Tax Credit is Now Worth More and is Refundable
For millennials who have children, or are planning to have children in the next few years, the tax bill increased the value of the child tax credit. You can now get up to $2,000 back for each qualified child who lives with you for more than half the year and meets certain other criteria. The bill also increased the income threshold so the credit doesn't begin phasing out until you make more than $400,000 per year for those filing jointly or $200,000 per year for singles.
In addition, some taxpayers may see another benefit since the child tax credit is now refundable for low-income individuals. Essentially, you can get back more than you paid in taxes (up to $1,400 in 2018) if you qualify for the refundable portion of the credit.
8. You Aren't Required to Buy Health Insurance Anymore — But You Still Can
The tax bill also repealed the individual mandate — a pillar of the Affordable Care Act that required everyone who could afford to buy health coverage — especially healthy, young people — to do so or else pay a "penalty." This ensured that sick people weren't the only ones buying health insurance, which would cause premiums to skyrocket.
Without the individual mandate, millennials can now choose to forgo buying health insurance without paying a penalty. Coverage will still be available through the individual markets, and, if you are currently covered by an employer or through a public health program (like Medicaid), you can keep that coverage if you want to.
Unlike most of the provisions above, the repeal takes effect on Jan. 1, 2019, and is permanent.
Conclusion
As you start to plan your expenses and consider your financial future this year (and in the coming years), keep some of these updates in mind. Knowing how the system works could not only impact crucial life decisions from homeownership to family planning, but it can also let you know if your bank account can handle paying for Netflix or splurging for a Hulu subscription (without commercials).
________________________________________
Chelsea Gold is an associate and Michaela Campbell is a legislative assistant at Steptoe & Johnson LLP in Washington, DC.
The opinions expressed are those of the author(s) and do not necessarily reflect the views of the firm, its clients, or Portfolio Media Inc., or any of its or their respective affiliates. This article is for general information purposes and is not intended to be and should not be taken as legal advice.
Professionals
Michaela Campbell
Michaela Campbell focuses on legislative and regulatory matters including tax, trade, labor, and environmental issues.Before joining Steptoe, Michaela worked for US Senator Susan M. Collins in several...
Legislative Assistant