Overview
For additional guidance, please refer to Steptoe's COVID-19 Resource Center.
Recognizing the disruption that COVID-19 precautions are causing to businesses, state, and local tax jurisdictions are providing extensions to otherwise applicable deadlines for tax filings, tax payments, and tax remittance. We summarize below the actions taken by selected jurisdictions – and we are available to provide assistance regarding many more jurisdictions.
Two important precautions are in order for taxpayers considering using the extensions:
Estimated business activity tax liabilities are generally determined on an annual basis. Due to COVID-19, many businesses should anticipate dramatic changes to their expected 2020 gross receipts, expenses, and income, and in their expected apportionment percentages. Therefore, it is important to make new computations of estimated taxes due using updated information and predictions.
Extensions to remittance and payment deadlines may expose businesses to hazards that management must protect against.

For trust fund taxes (e.g., sales taxes, use taxes, and taxes withheld from employee wages), businesses must be diligent to avoid "dipping into" these unremitted funds to pay expenses. These monies are held in trust for the tax jurisdictions, and the required periodic remittances exist in large part to guard against the temptation that holders otherwise might encounter to "borrow from" the unremitted funds. Because these funds belong to the tax jurisdictions and because of the risk of misappropriation, the jurisdictions jealously enforce their right to the money. To avoid the potentially severe consequences of under remittances, management should ensure that safeguards are in effect and might want to consider whether to forgo the opportunity to defer remittances.
For business activity taxes (e.g., income taxes and gross receipts taxes), management must ensure that adequate funds are available when estimated tax payments are due. While underpayments generally do not implicate the same potentially severe consequences of shortfalls in trust fund remittances, the temptation to underfund deferred payments must be guarded against.
The jurisdiction-specific information below is subject to frequent changes. Moreover, the jurisdictions may have procedural requirements for claiming relief (e.g., California requires writing "COVID-19 Relief" in black ink at the top of the relevant tax return). As such, it is important to review the jurisdiction's most recent guidance before taking any action.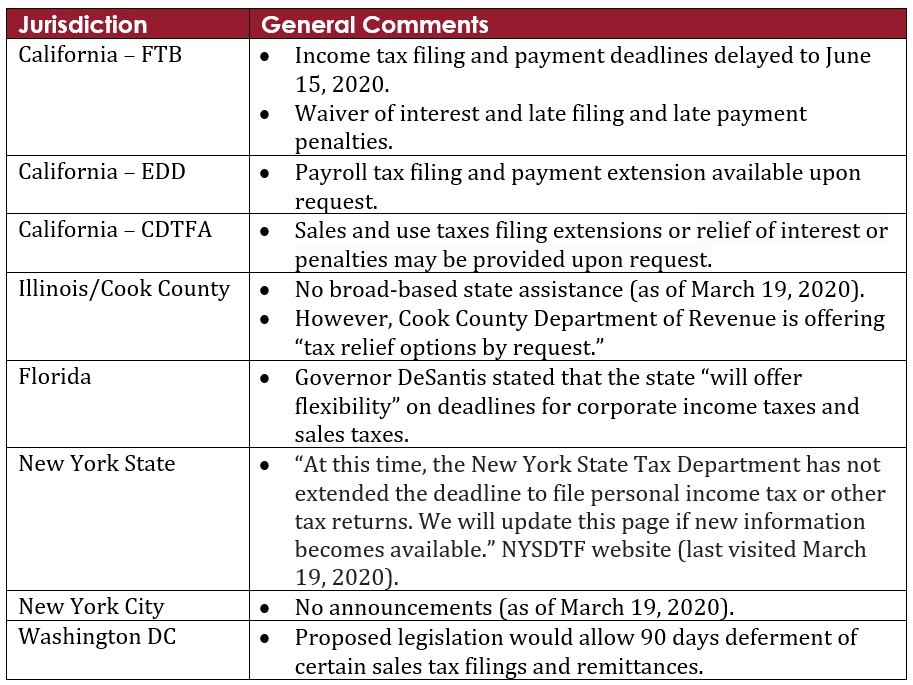 Professionals
David A. Fruchtman
David Fruchtman is the chair of Steptoe's national state and local tax practice, providing state and local tax planning and controversy advice. His representations involve almost all subnational taxes...
Partner
Aaron Hsieh
Aaron Hsieh advises public and private clients on a wide range of federal and state income tax planning matters, including tax issues related to corporate and partnership transactions. He also...
Associate