Overview
(March 20, 2019, Washington, DC) — Steptoe partner Sarah Gordon has been named to DCA Live's 2019 list of Emerging Women Leaders in Private Practice. The list recognizes women in law in the Washington, DC region who are emerging as leaders within their firms and the broader legal community. The women were honored during a reception on March 19.
At Steptoe, Gordon maintains a multifaceted litigation practice that encompasses insurance and reinsurance, employee benefits, and professional liability. She has been centrally involved on behalf of insurers in coverage disputes over sports-related brain injury claims (concussions), personal and advertising injury claims, cyber coverage claims, and abuse claims. On the reinsurance side, Sarah has extensive experience representing cedents and reinsurers in the life, health, and property/casualty industries.
In 2018, Gordon was named to the LGBT Bar's "Best LGBT Lawyers Under 40" list for her profound commitment to LGBT equality. Gordon took the lead in Steptoe's partnership with the Human Rights Campaign to draft an amicus brief in the US Supreme Court case Masterpiece Cakeshop, Ltd. v. Colorado Civil Rights Commission, involving the baker who refused to provide a wedding cake for a same-sex couple.
Gordon is an active member of the Steptoe Pride Alliance and, outside the firm, serves on the National Women's Law Center Leadership Advisory Committee and ARIAS Women's Networking Committee. She was also appointed to the American Bar Association's (ABA) Tort Trial & Insurance Practice Section's Special Standing Committee on Diversity in the Profession and served as vice chair of the ABA's Excess, Surplus Lines and Reinsurance section.
Since 2014, DCA Live has honored hundreds of executives in law, finance, business, technology and real estate in the DC region who have demonstrated exceptional performance and made significant contributions to growth and innovation within their companies and firms.
About Steptoe
In more than 100 years of practice, Steptoe has earned an international reputation for vigorous representation of clients before governmental agencies, successful advocacy in litigation and arbitration, and creative and practical advice in structuring business transactions. Steptoe has more than 500 lawyers and other professional staff across offices in Beijing, Brussels, Chicago, London, Los Angeles, New York, Phoenix, San Francisco, and Washington. For more information, visit www.steptoe.com.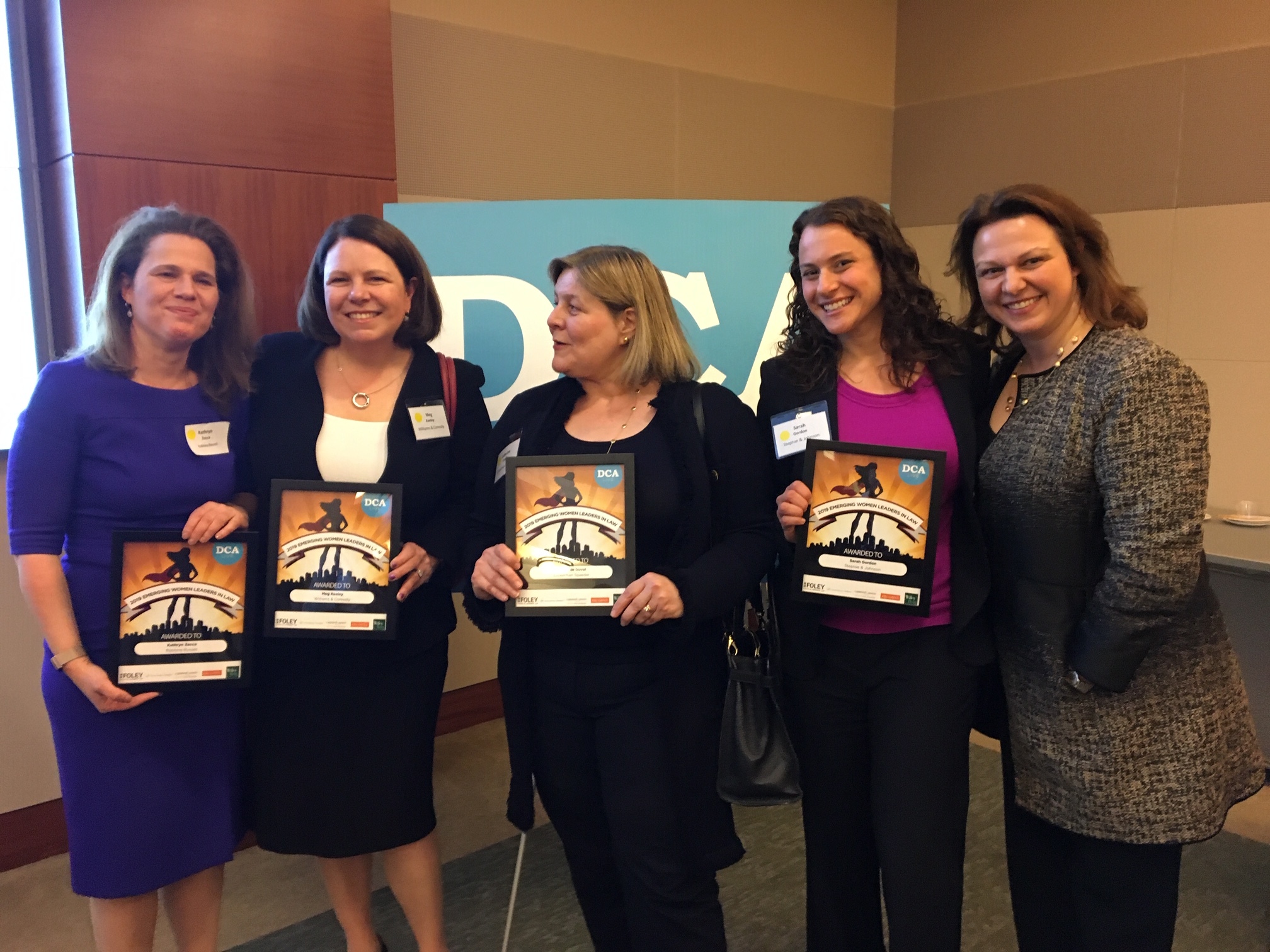 Steptoe partner Sarah Gordon with Vice Chair Gwen Renigar (far right) at the DCA Live reception on March 19