Overview
As has been widely reported, on March 8, 2018, President Trump announced that the United States would be imposing additional tariffs on steel and aluminum imports as a result of an investigation into the national security impact of these imports under Section 232 of the Trade Expansion Act of 1962.
Although these tariffs will apply to a wide range of steel and aluminum products from all countries except Canada and Mexico, the United States Trade Representative (USTR) is considering whether to exempt other countries from this relief, and the Department of Commerce (DOC) will be issuing procedures shortly to hear requests from US parties for the exclusion of individual products.
In this client alert, we discuss these exclusion processes and also how countries have indicated they may respond if their exports are ultimately targeted by these tariffs. We also offer some thoughts on how affected companies can best manage their exposure to these rapidly evolving trade policy developments.
Summary of Tariffs to be Imposed
The following table summarizes the relief contained in the Presidential Proclamations published in the Federal Register: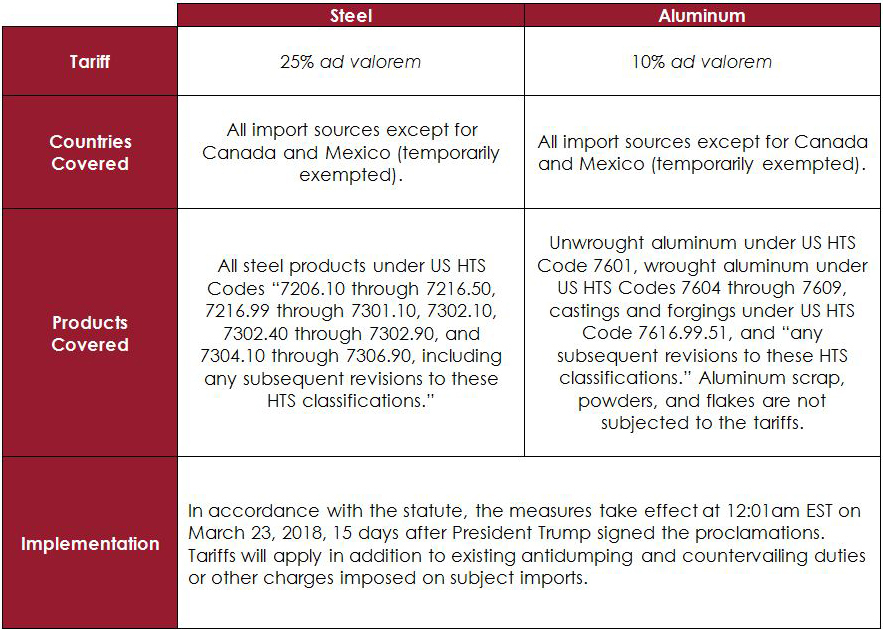 Please note that while the product coverage as presented in the proclamations published in the Federal Register on March 15, 2018 nearly matches that contained in the presidential proclamations as released on March 8, 2018, slight changes in phrasing with regard to aluminum coverage may call into question whether a few specific additional products are covered. Parties should carefully review their imports and the March 15 proclamations to determine whether the products in which they have an interest are in fact covered.
Country Exemption Process
The presidential proclamations exempt Canada and Mexico from the tariffs, "at least at this time." President Trump has suggested that these exemptions serve to advance NAFTA renegotiations towards a conclusion advantageous to the United States, though this is not explicitly stated in the proclamations. Instead, the proclamations highlight the strong economic and security relationships with Mexico and Canada and prioritize "ongoing discussions…to address the threat" to US national security posed by Canadian and Mexican steel and aluminum.
It is unclear at this time what NAFTA outcomes USTR will demand in exchange for maintaining an exemption for Mexico and Canada. Further, the duration of this exemption remains uncertain.
In addition to Canada and Mexico, the presidential proclamations state that countries "with which [the US has] a security relationship" can discuss with USTR the possibility of obtaining a complete or partial exemption from the steel and aluminum tariffs with respect to their exports.
In addition to this "security relationship," USTR will reportedly consider the following factors in considering whether to exempt a country in whole or in part: (1) whether the country seeking exemption protects its home market from underpriced imports; (2) the country's level of support for US positions in trade remedy cases at the WTO; (3) the country's participation in the Organisation for Economic Cooperation and Development (OECD) forum on steel overcapacity, and (4) bilateral steel and aluminum trade patterns with the country in question. Countries satisfying these criteria might be able to receive a full exemption or a partial exemption via an import quota.
However, as a condition of receiving an exemption, a country must develop a "satisfactory alternative means" of eliminating the threat to US national security posed by that country's steel and aluminum exports. The administration has not elaborated on the meaning of "alternative means," but this may entail something like a voluntary restraint agreement through which the country's steel and aluminum exports to the United States would be limited.
Details of USTR's timeframe for exemption efforts remain unclear, but it seems likely that this process will extend past the tariffs' implementation on March 23, 2018. USTR is expected to circulate its guidelines for exemptions in the coming days.
Notwithstanding the lack of clear guidance, some countries are already actively seeking exemptions. On March 12, 2018, Australian Prime Minister Malcolm Turnbull announced that he received a commitment from President Trump for an Australian exemption. South Korea, Brazil, Argentina, Japan, and the European Union (including the UK) are currently seeking exemptions from the tariffs. President Trump has suggested that tariffs applied to the EU could be lifted if the EU removes certain tariffs on US exports in exchange.
International Responses and Potential Retaliation
Several countries – including countries actively seeking exemptions from these duties – have publicly announced (or have at least strongly signaled) their intent to retaliate against the United States if their imports are affected.
The European Union has publicly stated, on several occasions, its intention to impose countermeasures against US imports should it be subjected to the steel and aluminum tariffs. According to EU documents, retaliatory tariffs could target certain US steel products, motorcycles, bourbon, boats, apparel, and various fruits and grains, among other products. Several of these products have been selected to maximize the political pressure on the Trump Administration.
China has consistently threatened to respond to the steel and aluminum tariffs and could retaliate against sensitive US agricultural exports. After the recent US measures on imports of solar cells and panels and washing machines, China opened antidumping and countervailing duty (AD/CVD) investigations into US sorghum exports, and began evaluating a potential AD/CVD investigation into US soybeans.
Finally, several of the United States' trading partners have expressed their intention to take the matter to the World Trade Organization (WTO) for consultations.
Product Exclusion Process
In addition to the country exemption process, the presidential proclamations direct the DOC to establish a process by which affected US parties can seek exclusions for specific steel and aluminum products. The DOC is authorized to grant an exclusion based on a determination that a product is not "produced in the United States in a sufficient and reasonably available amount or of a satisfactory quality" or "upon specific national security considerations." Since the proclamations specify that only "directly affected" parties "located in the United States," can seek exclusions, foreign companies seeking product exclusions will require the initiative of a US stakeholder.
The proclamations indicate that the DOC will issue these procedures by March 18, 2018 (which is a Sunday). The DOC will oversee the process in coordination with relevant White House officials and agencies including USTR, the Department of State, the Department of Defense, and the Treasury Department. The DOC has significant discretion in setting the timeline and specific procedures for this process.
Recent press accounts suggests that these exclusions will be few in number and narrow in scope, though it remains to be seen how the DOC will apply these exclusion provisions in practice. Moreover, while the DOC's Section 232 reports released in February noted that the DOC would rule on exclusion requests within 90 days, the presidential proclamations contain no such timeframe. Perhaps the DOC's procedures, to be released next week, will provide additional guidance on issues like timing and – as some lawmakers are seeking – the potential retroactivity of exclusion determinations made after the tariffs have gone into effect on March 23, 2018.
Next Steps for Affected Companies
Events regarding these Section 232 proceedings are developing rapidly, so parties potentially affected by these tariffs would be wise to stay abreast of current developments.
Companies that are considering seeking product exclusions should begin the process of data gathering now, even before the DOC issues its procedures early next week. We believe it likely that at a minimum, the DOC's procedures will require a clear and concise definition of the product to be excluded, and evidence either that the product is not produced in sufficient quantity or of sufficient quality by US producers, or is necessary for national security. These points should be supported by documentary evidence, such as (for example) communications with US mills indicating that they are unwilling or unable to produce the product needed, or documentation demonstrating the specific national security end use of the imported product.
We also believe it is critical for affected US companies to ensure that their representatives on Capitol Hill are made aware of the impact of these Section 232 tariffs, in order to secure necessary support in the exclusion process. We would also counsel companies to reach out to their contacts at the other agencies involved in the exclusion process, to ensure that their case and their concerns are clearly heard.
We will continue to keep you informed of Section 232 developments. If you have any questions, please contact Eric Emerson at +1 202 429 8076, Tom Trendl at +1 202 429 8055, or Joel Kaufman at +1 202 429 6288 in our Washington office.