Overview
(September 13, 2018, Beijing) — Steptoe has won the 2018 China Law & Practice International Firm of the Year Award in Trade. Steptoe also won this award in 2016. China Law & Practice hosted this year's awards ceremony in association with sibling publications The American Lawyer, The Asian Lawyer and Legal Week on September 13 at The St. Regis hotel in Beijing. Steptoe partner Brian Egan accepted the award on the firm's behalf.
The awards recognize top matters inside and outside China, best-performing law firms and standout partners. Steptoe was also a finalist for International Firm of the Year in the Regulatory and Compliance category.
Since its launch in 1987, China Law & Practice has been helping senior executives and in-house legal counsel of the largest foreign and multinational companies, joint ventures and domestic Chines companies, as well as government organizations and top law firms, keep abreast of legal developments in China and understand their impact on investment access and business operations.
For more information on the 2018 awards, visit: China Law & Practice.
About Steptoe
In more than 100 years of practice, Steptoe has earned an international reputation for vigorous representation of clients before governmental agencies, successful advocacy in litigation and arbitration, and creative and practical advice in structuring business transactions. Steptoe has more than 500 lawyers and other professional staff across offices in Beijing, Brussels, Chicago, London, Los Angeles, New York, Phoenix, San Francisco, and Washington. For more information, visit www.steptoe.com.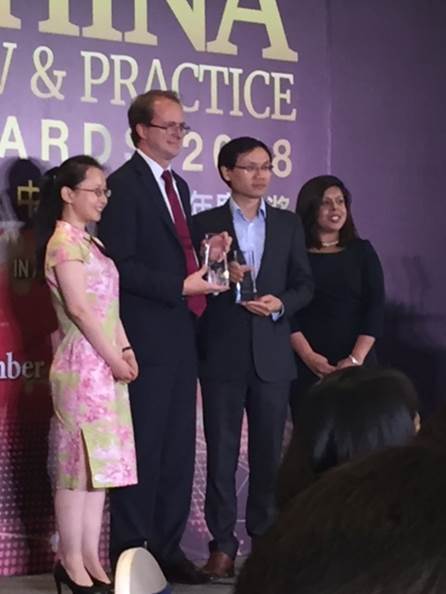 Steptoe's Brian Egan, second from left, accepts the firm's award.