Overview
(October 30, 2018, Washington, DC) — Team Steptoe was the top fundraising team at Best Buddies Capital Region's 2018 Friendship Walk held October 20 on the National Mall. More than two thousand people participated in this year's 5K walk, which raised more than $400,000 to support individuals with disabilities. Steptoe partner Shannen Coffin, who has been involved with Best Buddies for seven years, again served as chair of the event, with Team Steptoe raising nearly $45,000.
In advance of the walk, Steptoe's Diversity and Inclusion Committee hosted a reception, in connection with National Disability Employment Awareness Month, to drum up support for the walk and to celebrate the important work of Best Buddies in the community. During the October 16 reception, held in Steptoe's Washington office, employees and guests met with some of the organization's leaders and ambassadors, and learned more about the transformative impact of employment.
A highlight of the event was the presentation by Ashley Counts, a member of Best Buddies jobs program who has been employed by Steptoe and Seasons Culinary – Steptoe's café service provider – since December 2017.
Counts commented on the impact Best Buddies and her job at Steptoe have had on her life: "I believe that every person, no matter what their intellectual gifts or challenges, just wants to be accepted, respected and given the chance to become a useful and productive citizen. Those of us with intellectual disabilities just need a little more help to achieve those goals." She added: "I am so happy to be here! Steptoe and Seasons have created a fantastic work environment, supporting me and making me feel part of the team since the very first day."
Best Buddies is the world's largest organization dedicated to ending the social, physical and economic isolation of the 200 million people with intellectual and developmental disabilities (IDD). The Best Buddies jobs program secures jobs for people with IDD, allowing them to earn an income, pay taxes, and continuously and independently support themselves. The jobs program places focus beyond the typical jobs in which a person with IDD might be placed and focuses on finding work that matches the job seeker's interests and talents.
The Best Buddies Friendship Walk is the number one walk in the country raising awareness and funds to support individuals with IDD. Proceeds from the Best Buddies Friendship Walk provide the necessary tools for people with IDD to become more independent and valued members of society. This year, Team Steptoe had two dozen participants.
Karen Glasser, Best Buddies Capital Region Director, commented: "Best Buddies is incredibly grateful for our partnership(s) with Steptoe and with Seasons Culinary. They have truly embraced our mission of inclusion, both in the workplace and in the community, and they consistently show their support for our participants and all of our programs throughout Washington, DC and Virginia."
Held each October, National Disability Employment Awareness Month is a national campaign that raises awareness about disability employment issues and celebrates the many and varied contributions of America's workers with disabilities. Aligning with the firm's commitment to an inclusive environment, Steptoe has been named one of the 2018 Best Places to Work for Disability Inclusion by the Disability Equality Index. Achieving a high score of 90%, Steptoe was the only law firm rated on this year's list, sharing the recognition with 125 companies from the Fortune 1000.
About Steptoe
In more than 100 years of practice, Steptoe has earned an international reputation for vigorous representation of clients before governmental agencies, successful advocacy in litigation and arbitration, and creative and practical advice in structuring business transactions. Steptoe has more than 500 lawyers and other professional staff across offices in Beijing, Brussels, Chicago, London, Los Angeles, New York, Phoenix, San Francisco, and Washington. For more information, visit www.steptoe.com.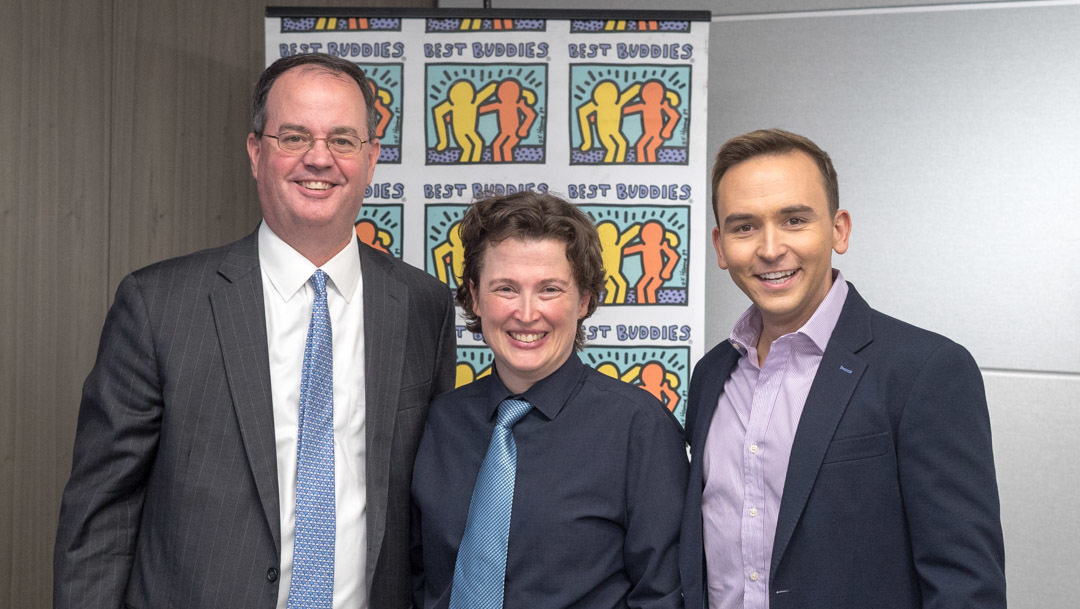 Steptoe partner Shannen Coffin, Steptoe/Season's Culinary employee Ashley Counts and Best Buddies Capital Region Chair Tommy McFly attend the firm's reception for Best Buddies.
Shannen Coffin and his son Brendan lead the 2018 Best Buddies Friendship Walk, which Coffin chaired.