Overview
(July 24, 2018, Washington, DC) — Steptoe partner and former Deputy US Trade Representative Ambassador Susan Esserman has received the Southern Christian Leadership Conference (SCLC) Justice for Girls Empowerment Award. Esserman was presented with the award at a luncheon held July 13 during the 60th annual convention of the SCLC in Washington. Click here to watch the SCLC video honoring Esserman and click here to watch her acceptance speech. Esserman also led a workshop at the convention on the scourge of sex and labor trafficking in the United States.
The SCLC is an inter-faith civil rights advocacy organization committed to nonviolent action to achieve social, economic, and political justice, as envisioned by its founding and longtime president, Dr. Martin Luther King, Jr. Its Justice for Girls program, an initiative to empower young girls, includes a focus on heightening awareness of human trafficking within communities across America.
Esserman was recognized for her work to assist survivors of human trafficking. As the leader of Steptoe's pro bono efforts in this area, she has represented numerous victims of sex and labor trafficking and has drawn in many women associates to work with her in this compelling area. Esserman's work and passion in this realm led her to conceive, build, and now lead the University of Maryland Support, Advocacy, Freedom and Empowerment (SAFE) Center for Human Trafficking Survivors. The SAFE Center was launched in May 2016 and is the country's first university-based comprehensive services, advocacy, and research center for human trafficking survivors. Esserman founded the SAFE Center with the goal of restoring dignity, human rights, and economic empowerment to sex and labor trafficking survivors. The SAFE Center is located in Prince George's County, MD, and will be partnering with the SCLC's Prince George's County chapter in the fight against trafficking.
In accepting the award, Esserman commented: "It is especially meaningful to receive this award from the SCLC, whose work has inspired me since my childhood. Your powerful history and enduring legacy have changed our nation and your continued commitment to social, economic, and political justice and to the principles and vision of Dr. King is as vital today as ever."
Click here to read the University of Maryland Baltimore's coverage of Esserman's SCLC award.
At Steptoe, Esserman heads the firm's International Trade Policy practice and is active in firm management. Along with Steptoe partner Toni Ianniello, she co-founded Steptoe's Women's Forum, which serves women lawyers in the firm's nine domestic and international offices. In 2015, The National Law Journal named Esserman to its Outstanding Women Lawyers list, honoring 75 of the most highly accomplished women in the legal profession in the United States. In 2017, Chambers presented Esserman with its Women in Law Award for "Outstanding Contribution to Advancing Gender Diversity in Private Practice."
About Steptoe
In more than 100 years of practice, Steptoe has earned an international reputation for vigorous representation of clients before governmental agencies, successful advocacy in litigation and arbitration, and creative and practical advice in structuring business transactions. Steptoe has more than 500 lawyers and other professional staff across offices in Beijing, Brussels, Chicago, London, Los Angeles, New York, Phoenix, San Francisco, and Washington. For more information, visit www.steptoe.com.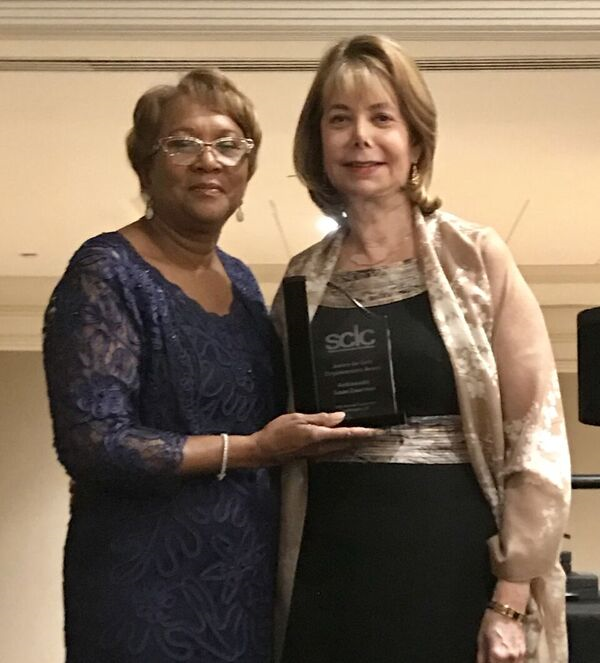 Cathelean Steele, first lady of the National SCLC, with Susan Esserman