Overview
As part of its leading role in providing global relief to address the COVID-19 crisis, the World Bank has committed significant financing to its member countries to respond to the pandemic and support economic growth. Recognizing the urgent need for these resources, the World Bank is relying on emergency guidelines that relax and expedite its traditional procurement oversight. However, companies interested in bidding in World Bank-financed projects should still expect the World Bank's standards of conduct to apply, and the significant visibility of this emergency lending will likely translate in increased scrutiny after the fact over how companies were selected and how financing was ultimately used. Faced with time pressures and expedited procurement procedures, companies would do well to ensure that their compliance efforts are effectively implemented on a risk basis to avoid falling afoul of World Bank requirements. Properly implementing and documenting these compliance efforts will be key in mitigating the risk of future World Bank investigations into sanctionable practices, such as fraud and corruption.
Increased World Bank Financing Presents New Opportunities in Developing Countries, Especially in the Health Care Sector
In March 2020, the World Bank created a fast-track lending facility with $14 billion available to support national public health systems, disease containment, diagnosis, treatment, and the private sector more broadly (COVID-19 fast-track facility).[1] The World Bank expects to deploy a total of $160 billion between April 2020 and June 2021 to support the COVID-19 emergency response, which focuses on strengthening public health systems and bolstering economic recovery. The first group of projects under the COVID-19 fast-track facility, worth $1.9 billion, was rolled out in April.[2] As of December 13, 2020, the World Bank announced that its COVID-19 financing had reached over 100 developing countries across all continents, initiating 158 projects worth $6.4 billion[3] (see Figure 1 for a breakdown of the recipient countries by region). Health care projects make up a majority of this financing, including measures to procure essential health supplies such as personal protective equipment, hospital beds, drugs and devices, ventilators, and testing kits. In addition, the World Bank is also providing aid for public administration and financing to supplement existing social protections.
Figure 1. Recipient Countries of WB COVID-19 Relief by Region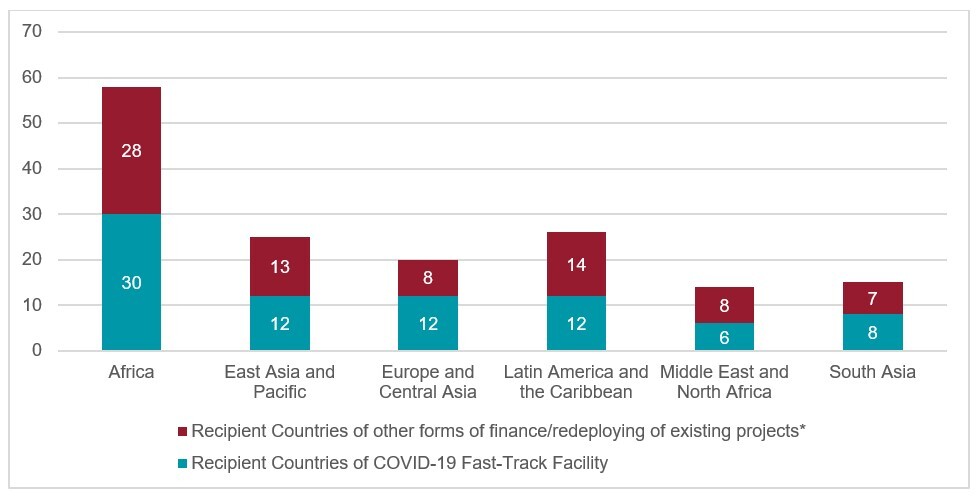 Source: World Bank Group's Operational Response to COVID-19 (coronavirus) – Project Lists, Brief, October 23, 2020.
The Fast-Tracking of COVID-19 Financing through Expedited Procurement Rules Creates Potential Compliance Pitfalls
To expedite the delivery of goods and services in emergencies, the World Bank has issued Guidance on Procurement in Situations of Urgent Need of Assistance or Capacity Constraints (emergency guidelines).[4] These emergency guidelines waive or loosen standard procurement requirements (such as the requirement for a competitive bidding process), shorten minimum bidding times, allow for simplified procurement agreements, and limit or postpone World Bank review and oversight. While these expedited procedures are intended to ensure a timely response to the crisis, they have compliance implications that companies would do well to keep in mind. In particular, shortened bidding times can translate to added pressure on companies to prepare their bids and gather the relevant supporting documentation. While companies usually have a minimum of 30 days to prepare their bids,[5] the emergency guidelines allow for a shortened bidding period.[6] Under these circumstances, companies should be careful not to side-step any internal controls or forgo risk-based due diligence to ensure that the bid requirements are met. In particular, companies should ensure the availability of proposed staff and disclose relevant third-party agreements in order to meet the World Bank's bidding requirements.
World Bank-Financed Projects Remain Subject to the World Bank's Sanctions Regime
All companies participating in World Bank-financed projects, whether at the selection or execution stage, are required to adhere to the highest ethical standards. These standards include not engaging in specified types of misconduct known as "sanctionable practices" – such as fraud, corruption, collusion, coercion, and obstruction. They are incorporated in the loan or grant agreements between the World Bank and the borrower country, as well as in the bidding documents and contracts between the borrower country and private companies. Under this framework, companies participating in World Bank-financed projects can be subject to investigations by the World Bank's Integrity Vice Presidency (INT) and a finding that it is "more likely than not" that a sanctionable practice occurred can result in sanctions, including the exclusion of a company or individual, temporarily or permanently, from eligibility for participation in World Bank-financed contracts. If companies are sanctioned for more than one year by one of five multilateral development banks, debarment decisions are mutually recognized and enforced among all five.[7] The World Bank also refers cases of fraud and corruption to local authorities. For more information on the World Bank's sanctions regime, as well as specifics on how to navigate this process, please see our previous article on the matter.
The High Visibility of COVID-19 Financing Makes it Likely that these Projects will be Subject to Enhanced Scrutiny by the World Bank, and Possibly Local Authorities
The health sector is particularly vulnerable to widespread corruption,[8] and the number of INT investigations and sanctions related to fraud and corruption in the health care sector reflects this vulnerability – representing 17 percent of all cases brought before the World Bank Sanctions Board since 2012, when the World Bank Sanctions Board started publishing its decisions.[9] Moreover, similar to what was observed during the Ebola crisis,[10] the urgent nature of COVID-19 financing is likely to make it particularly vulnerable to fraud and corruption, and could draw greater attention from INT and local authorities. In fact, scrutiny into COVID-19 emerging financing can already be seen at the national level. The US Department of Justice and the US Securities Exchange Commission have already initiated enforcement actions against COVID-19 related fraudulent practices,[11] and other jurisdictions have also stepped up enforcement. For instance, the coordinator of the Sicilian Coronavirus Task Force was arrested in Italy in May 2020, on bid ridding allegations for health sector procurements;[12] the Bolivian Health Minister was arrested on allegations of procuring ventilators at inflated prices;[13] and the German government has vowed to crack down after fraudulent COVID-19 relief applications were reported.[14]
Conclusion
A risk-based and effective compliance framework is the strongest defense companies can adopt in order to prevent fraud and corruption, especially in high-risk environments, such as expedited procurement processes in industries that are particularly vulnerable to these risks, as is the case of the health care sector. Establishing a culture of transparency from the top-down, increasing anti-corruption safeguards by monitoring and documenting the process to respond to expedited procurements, and providing adequate training are all key to a strong internal compliance program. In addition, documenting compliance can also save companies money, time, and headaches down the road in the event of a later audit or investigation.
Companies participating in World Bank-financed projects should develop a firm understanding of what activities can lead to non-compliance or even sanctionable practices, examine potential fraud and corruption-related risks stemming for expedited procurements, and take adequate steps to mitigate those risks. Companies relying on COVID-19 financing can expect heightened scrutiny from the World Bank, government authorities, NGOs, and the media. Updating and strengthening an internal compliance system with a focus on preventing sanctionable practices is even more critical in these turbulent and uncertain times.
---
[1] Press Release, The World Bank, World Bank Group Increases COVID-19 Response to $14 Billion To Help Sustain Economies, Protect Jobs (March 17, 2020).
[2] Press Release, The World Bank, World Bank Group Launches First Operations for COVID-19 Emergency Health Support, Strengthening Developing Country Responses (April 2, 2020).
[3] World Bank Group's Operational Response to COVID-19 (coronavirus) – Project Lists, Brief (October 23, 2020; updated on December 13, 2020); World Bank's Covid-19 Interactive Map (December 13, 2020).
[4] World Bank Guidance: Procurement in Situations of Urgent Need of Assistance or Capacity Constraints (March 7, 2019), accessible here (the "emergency guidelines").
[5] World Bank, The World Bank Procurement Regulations for IPF Borrowers (July 2016, revised in November 2017 and August 2018), accessible here.
[6] Emergency guidelines, Table 2.
[7] On April 9, 2010, the African Development Bank Group, the Asian Development Bank, the European Bank for Reconstruction and Development, the Inter-American Development Bank Group, and the World Bank Group signed the Agreement for Mutual Enforcement of Debarment Decisions, accessible here.
[8] See Transparency International, The Ignored Pandemic, March 2019. In addition, the World Health Organization estimates that 7.3 % of the total amount spent in the health care sector is lost to fraud and corruption. See Jones B, Jing A. Prevention not cure in tackling health-care fraud. Bull World Health Organ. 2011 Dec 1;89(12):858–9.
[9] World Bank Sanctions Board Decisions.
[10] Transparency International, Ebola: Corruption and Aid (February 27, 2015).
[11] The Department of Justice filed charges against the president of a California-based medical technology company in the Northern District of California on June 8, 2020; the Securities Exchange Commission filed an emergency action against five individuals and six offshore entities for an alleged fraud scheme in Massachusetts on June 9, 2020. In addition, the Federal Bureau of Investigations has reported nearly the same amount of complaints through its Criminal Complaint Center by May 2020 as they had in the entire year of 2019, with 75% of those complaints were related to fraud and swindles. See Calvin A. Shivers, Assistant Director of the Criminal Investigative Division, Federal Bureau of Investigation (June 9, 2020).
[12] Angelo Amante, Italy Arrests Sicily's Coronavirus Tsar on Corruption Charges, Reuters (May 21, 2020).
[13] Joshua Goodman, Spread of Coronavirus Fuels Corruption in Latin America, Associated Press (May 27, 2020).
[14] In Hamburg alone, prosecutors are expecting to initiate up to 1000 investigations into subsidy fraud resulting from COVID-19 financing. See Guy Chazan, Germany Cracks Down on Coronavirus Aid Fraud, Financial Times (April 19, 2020).
Professionals
Yas Froemel
Yas Froemel focuses on anti-corruption compliance, Foreign Corrupt Practices Act (FCPA) enforcement, and World Bank sanctions proceedings. Prior to joining Steptoe, Yas was a consultant at the World...
Associate
Yasmin Almeida
Yasmin Almeida assists clients in matters involving the US Foreign Corrupt Practices Act (FCPA), international regulatory compliance issues, and sanctions procedures in World Bank-financed projects....
Law Clerk & International Advisor