Overview
On June 15, the Federal Reserve announced its proposal to expand the Main Street Lending Program (MSLP or program) to certain nonprofit organizations that are tax-exempt under sections 501(c)(3) and 501(c)(19).
Loan terms under the proposed MSLP nonprofit loans, including the interest rate, deferral of principal and interest payments, and five-year term, are the same as for MSLP business loans. For an overview of the program's terms for for-profit businesses, click here.
The minimum loan size for the loans would be $250,000, while the maximum loan size would be $300 million. Principal payments would be fully deferred for the first two years of the loan and interest payments would be deferred for one year.
Two loan options would be offered under the proposal – one for new loans and one for expanded loans (increasing the limit of existing term loan or revolving credit facility). Borrower eligibility requirements for the proposed nonprofit facilities would be modified from the for-profit facilities to reflect the operational and accounting practices of the nonprofit sector and include:
Minimum of 50 and maximum of 15,000 employees;
Financial thresholds based on operating performance, liquidity, and ability to repay debt;
An operational history of at least five years; and
A limit on endowments of no more than $3 billion.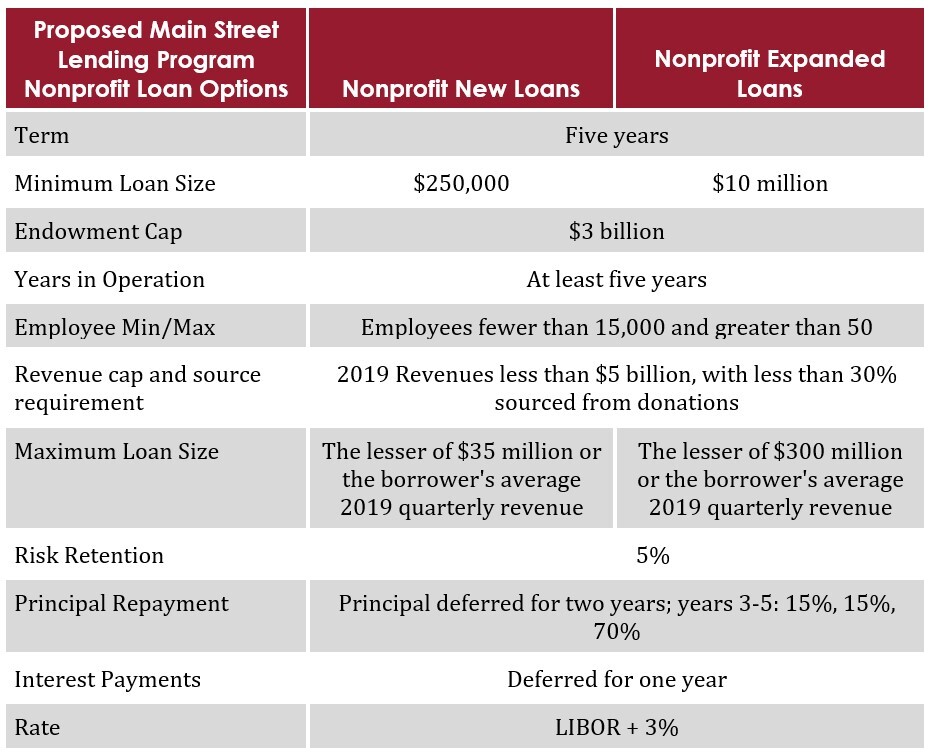 Comments on the proposal are due June 22 via this link.
Steptoe's Exempt Organizations and Financial Services practices are here to assist nonprofit organizations wishing to provide comments or apply for a MSLP loan when the program goes live.