Overview
(October 4, 2021, Washington, DC) — Steptoe partner John Kavanagh has been honored by the John Carroll Society for his significant contributions to the Catholic Charities Legal Network of the Archdiocese of Washington. He was recognized at a brunch held October 3 following the annual Red Mass.
The John Carroll Society is an organization of Catholic professionals united in their desire for an ever deepening and enriching knowledge of their faith and in service to the archbishop of Washington. Each year, the society sponsors the Red Mass at the Cathedral of St. Matthew the Apostle in Washington, DC. The Red Mass is celebrated annually on the Sunday before the first Monday in October, which marks the opening of the Supreme Court's term, to invoke God's blessings on those responsible for the administration of justice as well as on all public officials.
At a brunch and reception held following the Red Mass, the John Carroll Society recognized Kavanagh for his pro bono legal work through the Catholic Charities Legal Network.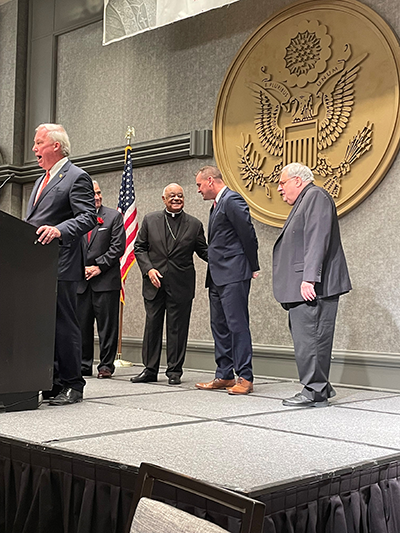 Steptoe partner John Kavanagh is honored by Wilton Cardinal Gregory, Archbishop of Washington, at the annual Red Mass reception sponsored by the John Carroll Society.
About Steptoe
In more than 100 years of practice, Steptoe has earned an international reputation for vigorous representation of clients before governmental agencies, successful advocacy in litigation and arbitration, and creative and practical advice in structuring business transactions. Steptoe has more than 500 lawyers and other professional staff across offices in Beijing, Brussels, Chicago, Hong Kong, London, Los Angeles, New York, San Francisco, and Washington. For more information, visit www.steptoe.com.