Overview
(May 29, 2018, Washington, DC) — Steptoe has won the 2018 Chambers USA Award for Excellence in Insurance: Transactional Insurer. The awards are based on research for the 2018 edition of Chambers USA and reflect a law firm's pre-eminence in key practice areas. The awards also reflect notable achievements over the past 12 months including outstanding work, impressive strategic growth and excellence in client service. Steptoe partner Harry Lee, who co-leads Steptoe's Insurance/Reinsurance Group with partner Frank Winston, accepted the award on the firm's behalf at the Chambers USA Awards ceremony and dinner on May 24 at Cipriani 42nd Street in New York.
In selecting Steptoe for the award, the editors of Chambers noted: "Steptoe & Johnson has continued to solidify its position as the go-to firm for contentious insurance matters, with an enviable track record of handling high-stakes coverage litigation on behalf of leading insurance companies. A deep bench and wide-ranging expertise mean the firm is well-placed to handle the full range of insurance coverage disputes, including property damage, product liability and environmental contamination cases."
Steptoe's Insurance/Reinsurance Group handles a wide-range of third-party coverage disputes involving environmental contamination, hazardous products, financial products, pharmaceuticals and medical devices. The group represents insurers in first-party coverage litigation, including cases arising from hurricanes, fires, earthquakes, floods, and other natural and man-made disasters, and also serves as defense counsel for insureds in professional liability matters, construction litigation and other commercial disputes.
Called the "go-to group for complex matters and unique issues" by Chambers USA, Steptoe's insurance team consists of more than 50 lawyers across the United States, London, Brussels and Beijing. The firm's insurance coverage lawyers have appeared in 48 of the 50 states, and in arbitrations throughout the United States and abroad.
The Chambers USA Award for Excellence is the latest in a string of accolades for Steptoe's insurance practice. The group has been named four times as a Law360 "Insurance Group of the Year," and twice recognized by The National Law Journal as a "DC Insurance Litigation Department of the Year."
About Steptoe
In more than 100 years of practice, Steptoe has earned an international reputation for vigorous representation of clients before governmental agencies, successful advocacy in litigation and arbitration, and creative and practical advice in structuring business transactions. Steptoe has more than 500 lawyers and other professional staff across offices in Beijing, Brussels, Chicago, London, Los Angeles, New York, Phoenix, San Francisco, and Washington. For more information, visit www.steptoe.com.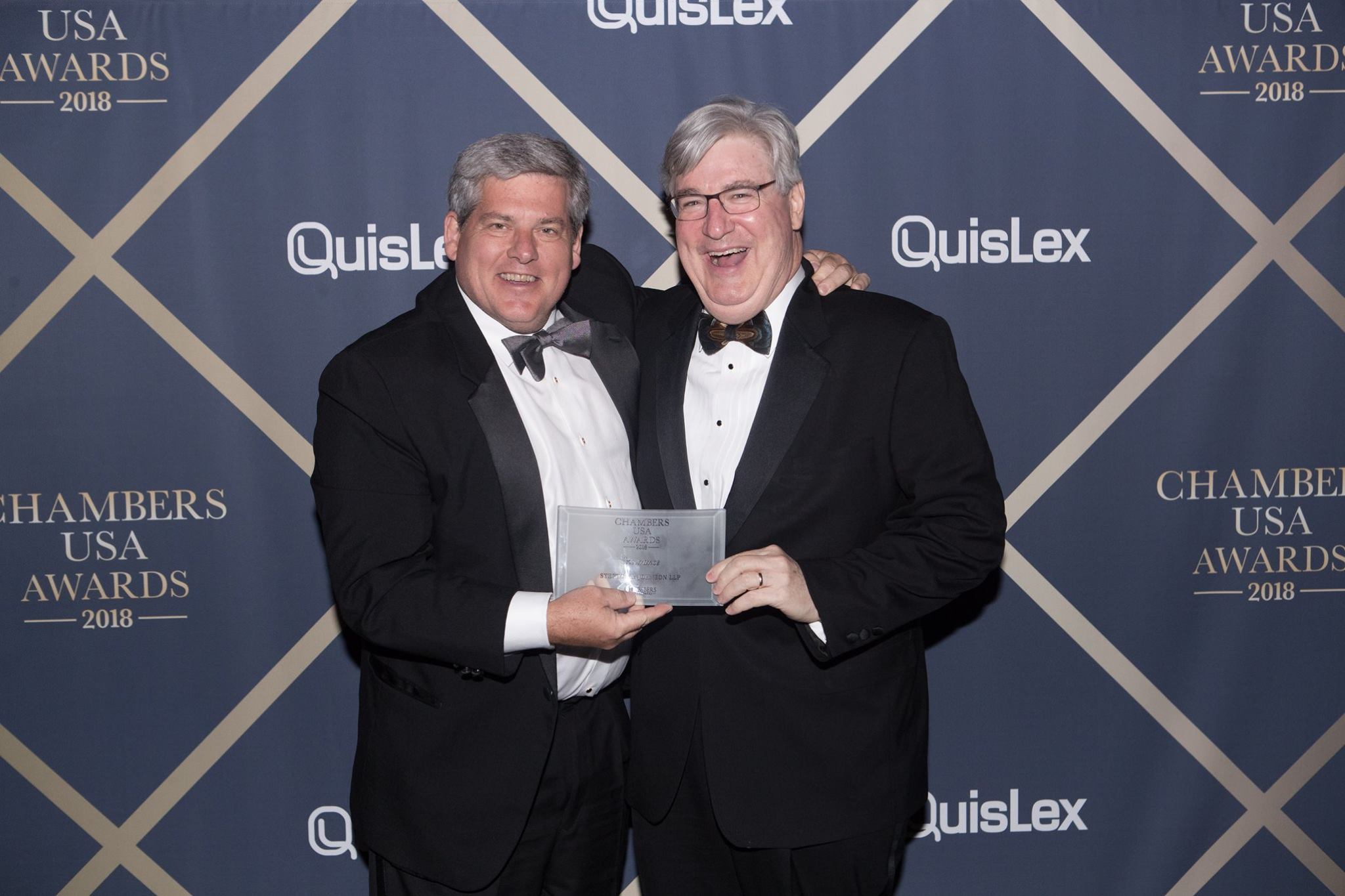 Steptoe partner Harry Lee with Joe Warin.