Overview
Welcome to Steptoe's Supply Chain University, where we dive into the legal, policy, and advocacy issues involving supply chains. As events over the past 18 months have shown, now more than ever, companies around the world are being forced to navigate challenges that threaten the operation—or, in some cases, the fundamental viability—of their supply chains.
In this series of short videos, Steptoe partner Jeff Weiss speaks with industry and legal professionals, as well as academics, about trending supply chain topics ranging from the Biden administration's executive order on supply chains to artificial intelligence to cybersecurity issues, and much more. We are taking a critical look at how supply chain issues intersect with almost every industry, and the topics that impact your business.
Featured Video of the Week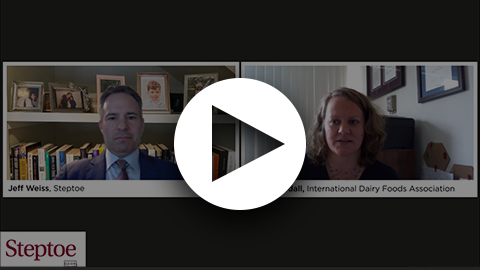 Featured guest, Becky Rasdall, Vice President, Trade Policy and International Affairs at the International Dairy Foods Association, discusses challenges and opportunities for the US dairy supply chain.
Additional videos