Overview
Primary Contacts: Matthew Kulkin, Stacie Hartman
Steptoe's Financial Services University brings together lawyers and professionals from across the many legal, business, and regulatory areas that intersect with the financial services industry.
In these short videos, we explore key issues and topics that may impact your business. Whether you work in the financial services industry or your business involves financial issues, these sessions will help you learn more about the many aspects of financial services. Each session is self-contained, so you can pick the videos that interest you and your business.
Featured Video of the Week:
Distressed Asset Acquisition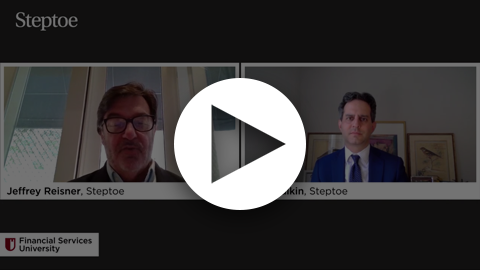 Jeff Reisner discusses what to do with distressed assets and how to get rid of them. If you want more information about distressed assets, Jeff has also done recent webinars on Distressed Asset Acquisitions and Bankruptcy 101.
---
Click on the topic below to jump to the session of your interest:
---
Anti-Money Laundering Regulation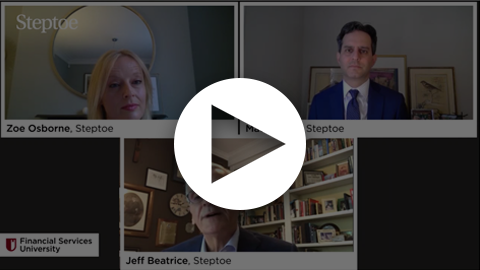 Zoe Osborne and Jeff Beatrice talk about what money laundering is and how it works, compare US and UK laws regarding money laundering, and discuss recent trends and expected future government enforcement priorities.
Corporate Governance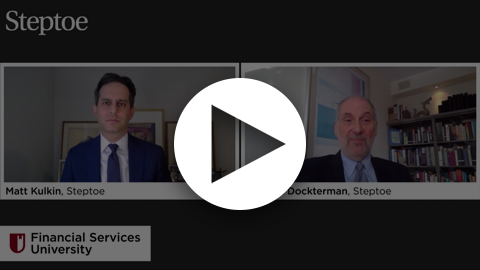 Michael Dockterman talks about counseling boards of directors on corporate governance matters, including CEO evaluation, board self-assessment, committee function and structure, facilitating strategic planning, and internal investigations.
Distressed Asset Acquisition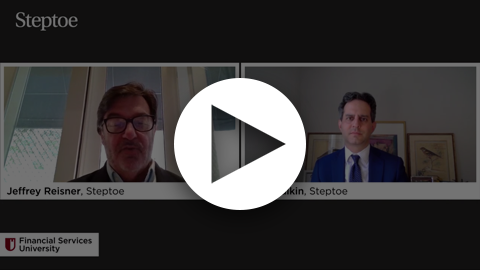 Jeff Reisner discusses what to do with distressed assets and how to get rid of them. If you want more information about distressed assets, Jeff has also done recent webinars on Distressed Asset Acquisitions and Bankruptcy 101.
EU Cybersecurity Legislation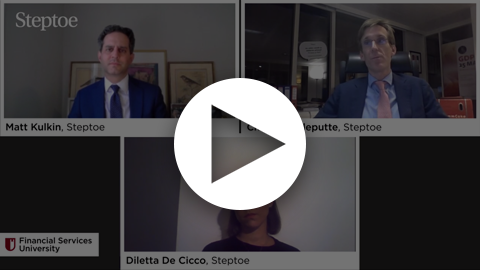 Charles Helleputte and Diletta De Cicco focus on ransomware attackers, how cybersecurity threats impact the financial services industry, ways the EU is imposing cybersecurity measures and what the financial sector should expect, and recommendations for cybersecurity compliance.
EU Insurance and Reinsurance Regulation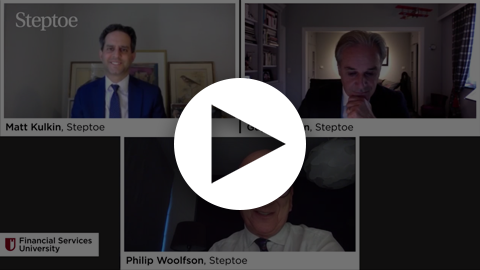 Guy Soussan and Philip Woolfson take a look at the European re/insurance supervision landscape, what the current difficult environment means for our clients day-to-day, and the sector's response to COVID-19 and how that's going to play out over the coming months.
Financial Services Regulatory Compliance and Advocacy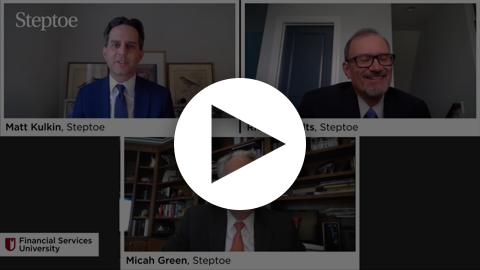 Micah Green and Richard Shilts talk about the growing role of federal financial regulators, how it impacts companies, and the way regulated industries conduct business.
Fine Points on Economic and Trade Sanctions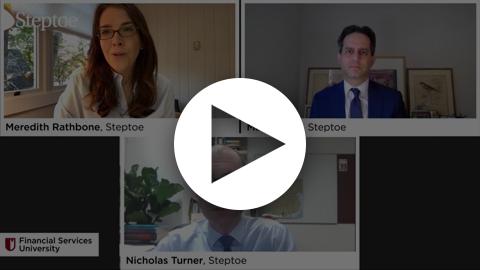 Meredith Rathbone and Nick Turner talk about how sanctions from the Office of Foreign Assets Control apply to any currency, why the US government permits some transactions with sanctioned territories, and how secondary sanctions are limited to certain activities.
Individual Tax and Estate Planning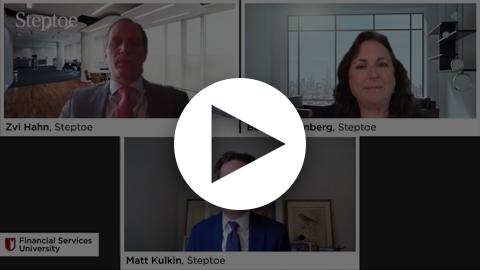 Beth Tractenberg and Zvi Hahn discuss important things to keep in mind when estate planning, as well as considerations for cross-border and international estate and tax planning.
Insider Trading Investigations and Enforcement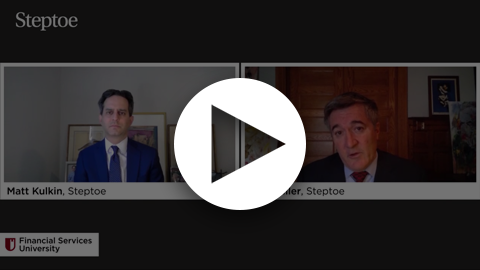 Mike Miller dives into three key aspects of insider trading investigations and prosecutions in this COVID-19 era: why there is a heightened risk of insider trading investigations and prosecutions, what are the three basic theories of insider trading prosecutions, and what defenses exist for individuals who find themselves in the cross hairs of an investigation.
International Trade and Investment Agreements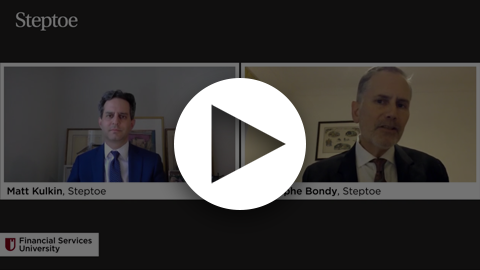 Christophe Bondy talks about how the Financial Services industry shows up in international trade law including at the World Trade Organization and in free trade agreements, how financial services will be covered in any Brexit deal between the United Kingdom and European Union, and efforts undertaken to facilitate international trade in financial services through multilateral standards-setting.
Judgment Enforcement in Commercial Disputes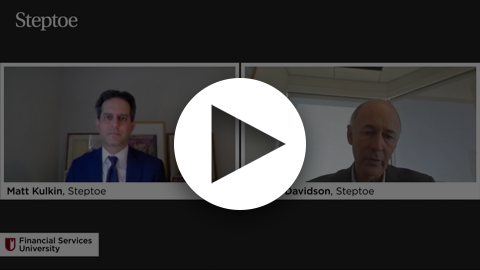 Steven Davidson discusses the difficulties of enforcing a judgement when defendants don't want to pay, creating strategies for making judgments enforceable, and how financial services industry companies are brought in as custodians of assets.
Latin America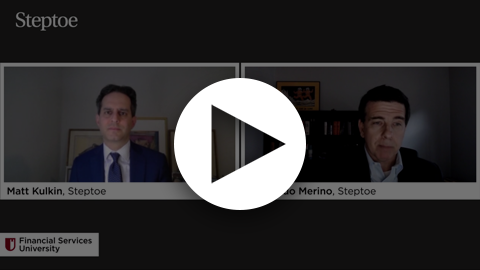 Fernando Merino talks about what it's like to do business in Latin America, where the opportunities are and what liabilities companies are likely to encounter.
Puerto Rico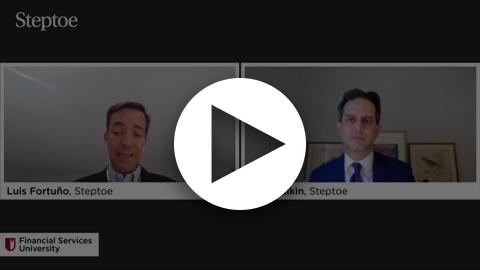 Former Governor of Puerto Rico Luis Fortuño talks about Puerto Rico's bankruptcy and restructuring, and what that might mean for other state and local governments.
Tax Policy Outlook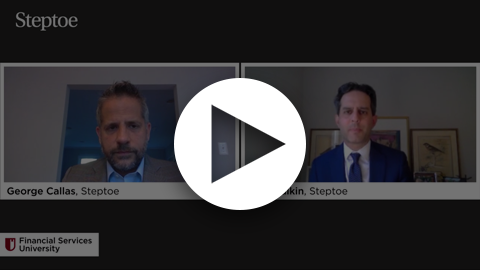 George Callas dives into the process of writing tax policy and legislation, threats and opportunities for financial services companies trying to draft industry-specific tax policies, and the differences between different government bodies (Senate, House Ways and Means Committee, the White House, the Treasury department) and how to advocate strategically in front of each body.
The Impact of Taxes in Times of Economic Downturn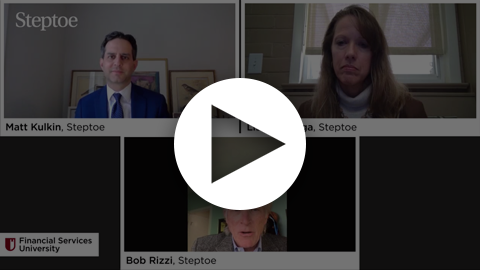 Lisa Zarlenga and Bob Rizzi discuss how taxes might impact businesses decisions regarding companies that are suffering potential setbacks, including debt workouts and acquisitions of troubled companies – an issue that is top of mind for many companies who are dealing with the fallout of COVID-19 and the potential years of regrouping that will come afterward.
Trade Policy, Market Access, and Supply Chains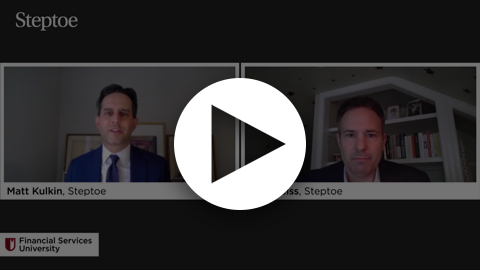 Jeff Weiss discusses international trade policy in the financial services arena. He dives into how trade policy tools can be used to improve market access for financial services providers around the world. Jeff also talks about Steptoe's recently launched Supply Chain team, and how supply chain issues impact financial services.
Virtual Currency and Blockchain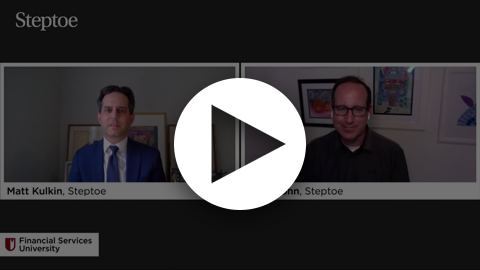 Alan Cohn takes a look at the role of cryptocurrency, dispels the idea that cryptocurrency and cryptoassets are unregulated and that there are not clear regulations for this space, and discusses the issues faced by companies financial services companies face when dealing with cryptocurrencies.