Gold Thread Embroidered Overcoat
Ioannina, Northern Greece (c. 19th Century)
Pirpiri: Gold Thread Embroidered Overcoat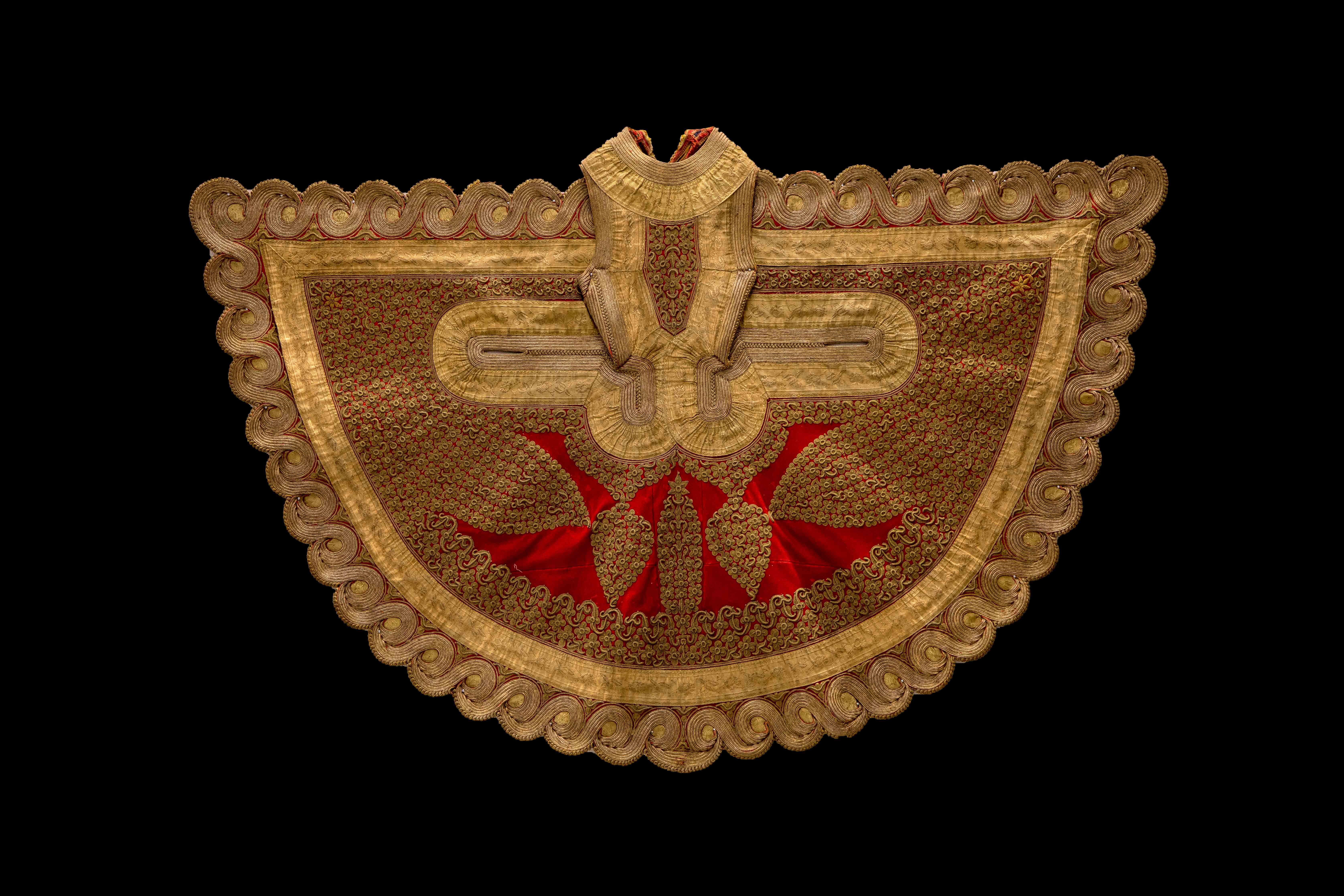 At the converging point of three continents and at the crossroads of East and West, Greece has developed a unique culture that bears the evidence of thousands of years of cultural exchange, most notably with the Ottoman Empire, which ruled the country for centuries.
None is more telling of this layered history than the diversity of the country's traditional costumes, which are saturated with evidence of a rich variety of cultures fused with local tradition. Among them is the 19th century costume of the urban women of Ioannina, an affluent commercial city in Epirus, Northwestern Greece, situated along the major trade thoroughfare between East and West, and under Ottoman rule until 1913. Of exceptional beauty, this urban costume is testament to the creativity that is unleashed when diverse cultural elements meet and impact one another.
The pirpiri, the elaborate and luxurious overcoat of the Ioannina costume, is a brilliant example of the blending of Ottoman and Greek artistic traditions. Worn by both Christian and Muslim women throughout the Balkans with local variations, the pirpiri is made of deep red or black wool felt or velvet with scalloped edges, and densely embroidered in the Terzidi technique by itinerant artisans, the so-called Terzides.
Terzidi embroidery uses gold braided or twisted cord, which is secured on the surface of the fabric by hidden silk-thread stitches, or as they are known in embroidery, by couched stiches. The elaborate gold metallic embroidery design is first drawn on paper, which is then attached on the fabric, and removed at the end. The design includes leaf-like motifs, rosettes, and various large blooms, which often form medallions or split-palmettes, while the coat's scalloped edges are trimmed with gold braiding.
Passed down from mother to daughter, the sleeveless overcoat is part of the festive version of the costume. It is worn over a long silk chemise, pantaloons, and a brocade dress, and embroidered shoes. Until the early 20th century, the costume also served as a bridal dress, and continues to be worn today for national holidays and celebrations.