The Champ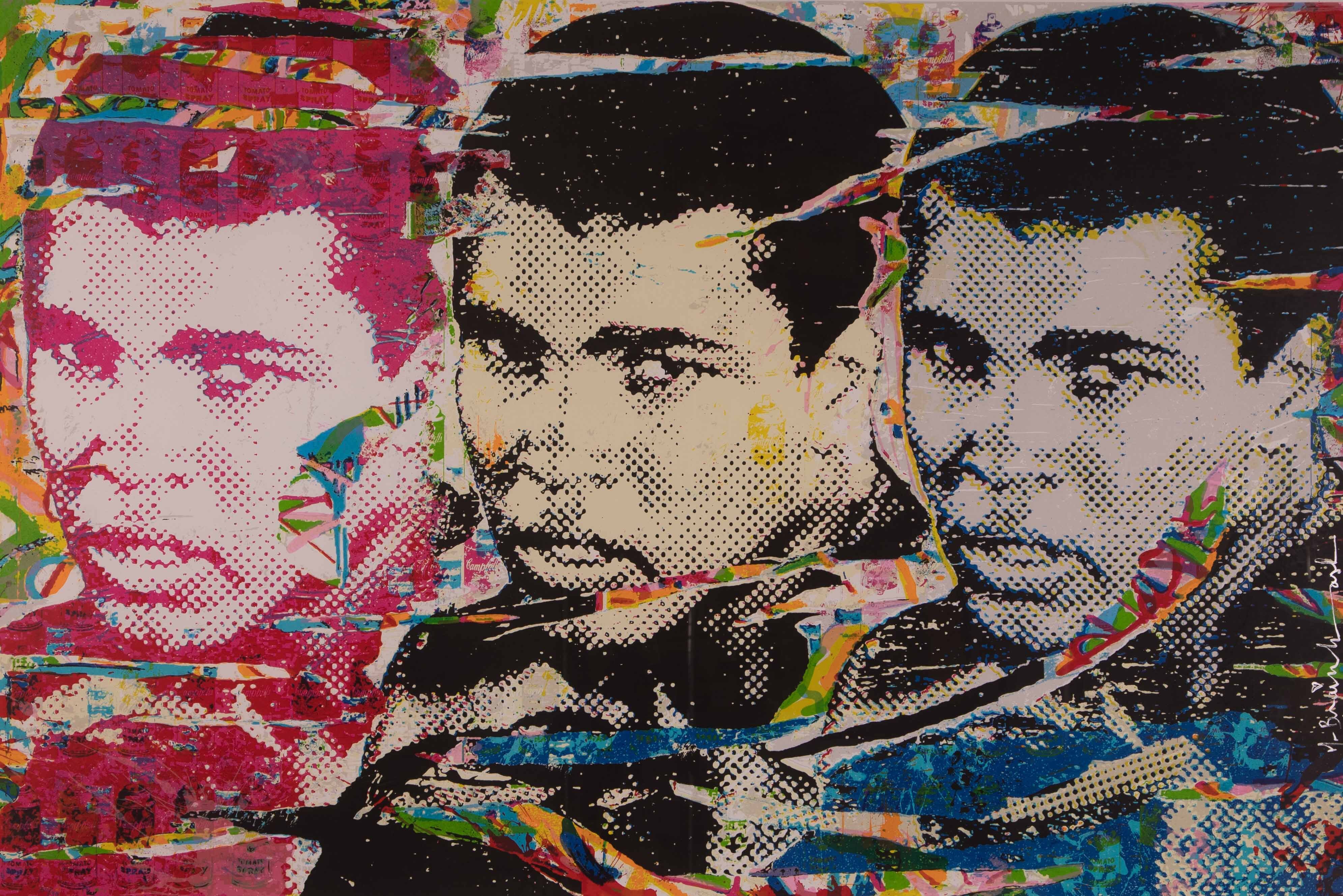 Work
While Mr. Brainwash often evokes Bansky, who encouraged him to find his own artistic voice, he also channels such artists as Andy Warhol and Keith Haring to create his own version of art, one that blends pop and graffiti art. Working with layers of screen print and stenciled images, the brightly colored art of Mr. Brainwash features and often juxtaposes images of such iconic personalities as Charlie Chaplin, Albert Einstein, Muhammad Ali, Madonna, Marilyn Monroe, Billie Holiday, John Lennon, and others. His works often target consumerism and also promote the idea that love conquers all. Mr. Brainwash has repeatedly stated that regardless of whether his is true art or not, he will continue to make it, as it makes himself and others happy. One of the largest though most confusing personalities around, the work of Mr. Brainwash encourages and feeds a debate about the nature of art and its goals.
His work The Champ was made to pay homage to Muhammad Ali, and features three consequential and slightly overlapping images of the legendary boxer. Upon Ali's death, he reissued a limited number of prints in black, which completely sold within 15 seconds of being put up for sale. Among many other works, including a mural at the London Opera, and another in New York marking the September 11, 2001 terrorist tragedy, Mr. Brainwash has been commissioned by music celebrities, such as Madonna to create works for her music, as well as several works for the group Red Hot Chili Peppers.
About the Artist
Mr. Brainwash, a leading figure in the contemporary urban art scene and a master of art appropriation, is a bit of a mystery. Many fans and critics speculate that Mr. Brainwash is a persona invented by Bansky, the renowned British street artist, who is known for his subversive humor and proclivity to pranks. Notoriously protective of his identity, Banksy has denied these speculations, which continue to exist.
The man who claims the Mr. Brainwash identity is French-born Thierry Guetta, who moved to Los Angeles with his family when he was 15. And yet, there are still those who believe that Banksy and Mr. Brainwash are one and the same, especially since many of Mr. Brainwash's works emulate some of Banksy's characteristic trends, not to mention that Guetta's inner artist arose out of nowhere.
Initially an owner of a vintage clothing store, Guetta was also an avid videographer, who recorded every detail of his family's life and everything else in sight, remarkable or not. This was a habit he developed after his mother died when he was still a child. Filming his cousin, French street artist Space Invader, while visiting France, Guetta also developed a passion for filming street artists as they created their "underground" work, and spent ten months following legendary street artist Shepard Fairey. It was during this time that Guetta met Banksy, who is purported to have encouraged him to try his hand at street art. Guetta's journey of transition into a street artist is captured in the Oscar nominated documentary Exit Through the Gift Shop (2010), a film that blurs the lines between reality and fiction, and is directed by none other than Banksy himself.
Mr. Brainwash became an overnight success in 2008, when his debut show Life is Beautiful, which took place in 2008 at a former CBS studio in Los Angeles, attracted more than 7,000 viewers on opening night alone.