The Faces of Your Others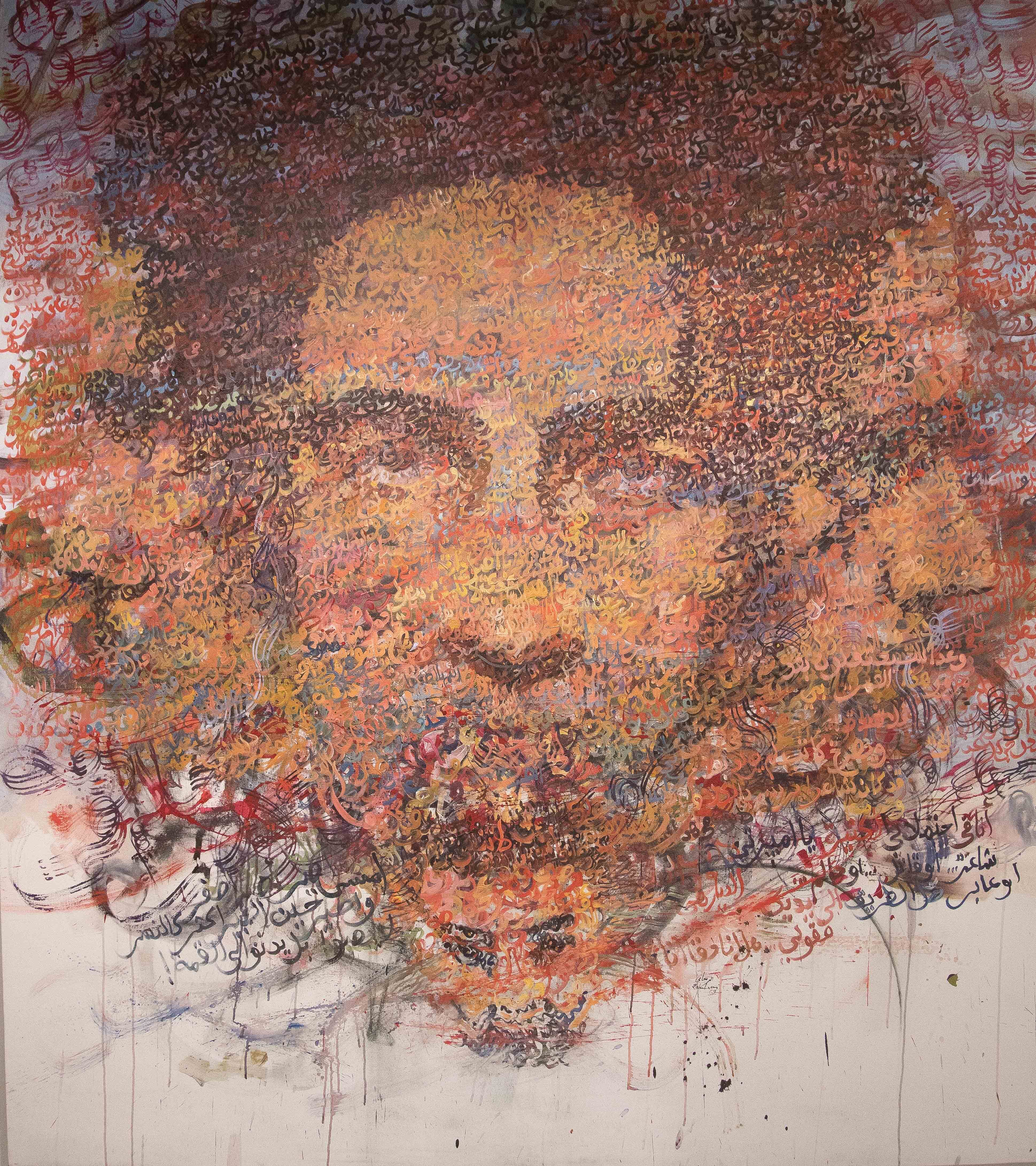 Work
Zakaria Ramhani's work focuses almost exclusively on portraiture, which he forms by using Arabic calligraphy. Whether as testament, opposition, or both, his large-scale portraits invariably reveal his Islamic heritage, which denounces figurative art.
The writing, which at first seems to be superimposed on his images, is not necessarily decipherable, nor does it seek to convey meaning through text. Its message is derived more from its use rather than any words it may form. In essence, calligraphy is the medium, the actual brush stroke through which Ramhani creates and simultaneously blurs his images, relying on the winding curves of calligraphic letters to form the shapes he wants.
While we can only guess at his motive or intent, the result is that calligraphy, the traditional medium for Islamic art, creates a beclouding veil that envelops the depicted form, which may on the one hand help Ramhani evade accusations of blasphemy for disobeying the prohibition against figurative art. On the other, the twists and turns of the letters allow for the image to elude identification and at times confuse the viewer as to who is actually depicted.
Ramhani's figurative images, often "appropriated" from the media, dissolve when viewed from close up, as the letters or strokes themselves become the focus, giving the work a sense of the abstract. Even from afar, his portraits, most often of famous or notorious personalities, are not easily identifiable and lead to multiple interpretations, causing viewers to wonder: is the artist using calligraphy to honor his Islamic heritage, or to elude the Islamic tradition of aniconism, which does not espouse figurative depiction. While it can be said that calligraphy may help Ramhani avoid violating this prohibition, one could also argue that he gives calligraphy not only a new life, but also a place of honor in contemporary art.
In the series Faces of Your Others, Ramhani imposes Arabic script throughout the canvas and both replicates and obscures the faces of several well-known figures from various sectors, including politics and art. The words, phrases, random thoughts and poetic verses in a variety of colors form both the background and the facial features of such personalities as Hosni Mubarak, George Bush, Barak Obama, Jimmi Hendrix or not, and various other individuals, whom he does not identify.
About the Artist
Visual artist Zakaria Ramhani was born in Tangier, Morocco, to a family of devout Muslims. Ramhani received a degree in education in 2003 and taught art until he launched his own career as an artist. In 2006, he was awarded a residency at the Cité Internationale des Arts in Paris by the French Ministry of Culture, and was the youngest Moroccan to ever receive this prestigious residency.
Exposed to art early in his childhood, Ramhani learned the various painting techniques from his father, who was also an artist focusing on landscapes. He was also exposed to the dichotomy and ensuing remorse, as well as alienation from the community that his father suffered when he rarely and reluctantly painted a commissioned portrait. The experience left an indelible mark on the young artist. Referring to it as part of a "collective mental heritage," this inherited sense of guilt has been a definitive force in Ramhani's own work, with such telling exhibitions as May Allah Forgive Me. This friction between tradition and the contemporary world, has been a driving force not only in Ramhani's work, but also in the work of many Arab artists, who are inspired by the idea of change and are causing controversy by questioning religious tradition while denouncing violence.
Zakaria Ramhani's work is found in many collections and has been exhibited throughout Europe and the Middle East, including at the Barbican Centre in London, Centre d'Exposition Val-d'Or in Quebec, Canada, The Arab Institute in Paris, the Dakar Biennale in Senegal, the Bahrain National Museum, Cairo Biennale in Egypt, and the British Museum's Word Into Art at the International Finance Center of Dubai.