Deplacement Optique B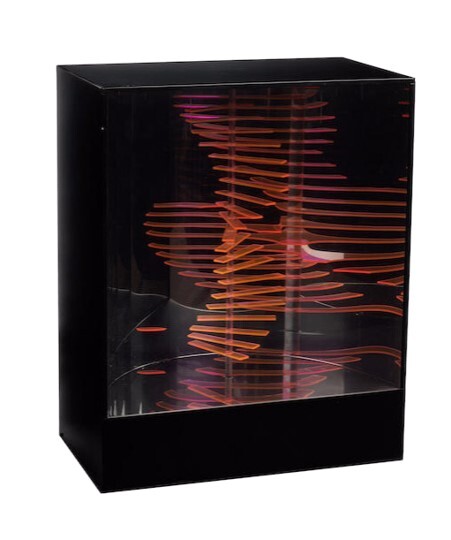 Work
Martha Boto's kinetic sculpture relies on the concepts of movement, light, and color, incorporating industrial materials and electric motors. Initially affiliated with the concrete art movement, Boto began to focus on kinetic art, creating sculptures that were autonomous, producing intricate visual effects through movement and light generated by a motor. Particularly interested in absorbing and reflecting light, she experimented with a variety of industrial materials, including aluminum and stainless steel.
About the Artist
Born in Buenos Aires, Argentina, in 1925, Martha Boto is considered to be a pioneer of kinetic art and the co-founder of the Group of Non-Figurative Artists of Argentina. She was attracted to drawing and painting from a very young age and studied at the Academy of Fine Arts in Buenos Aires, receiving the title "Professor of Drawing." She furthered her studies at the Graduate School of Fine Arts, deepening her knowledge and skills.
Putting painting aside in favor of sculpture, Boto moved to Paris in 1959 with her husband and collaborator, fellow Argentinian artist Gregorio Vardanega. Her work was well received, with critics relating it to science fiction and "magic space travel."
Boto's work found a receptive audience throughout Europe and the United States and has been included in important exhibitions both in her native Argentina and Europe. She continued to work, making sculptures and paintings, through the early 2000s.