James Rosenquist
United States (1933-2017)
Off the Continental Divide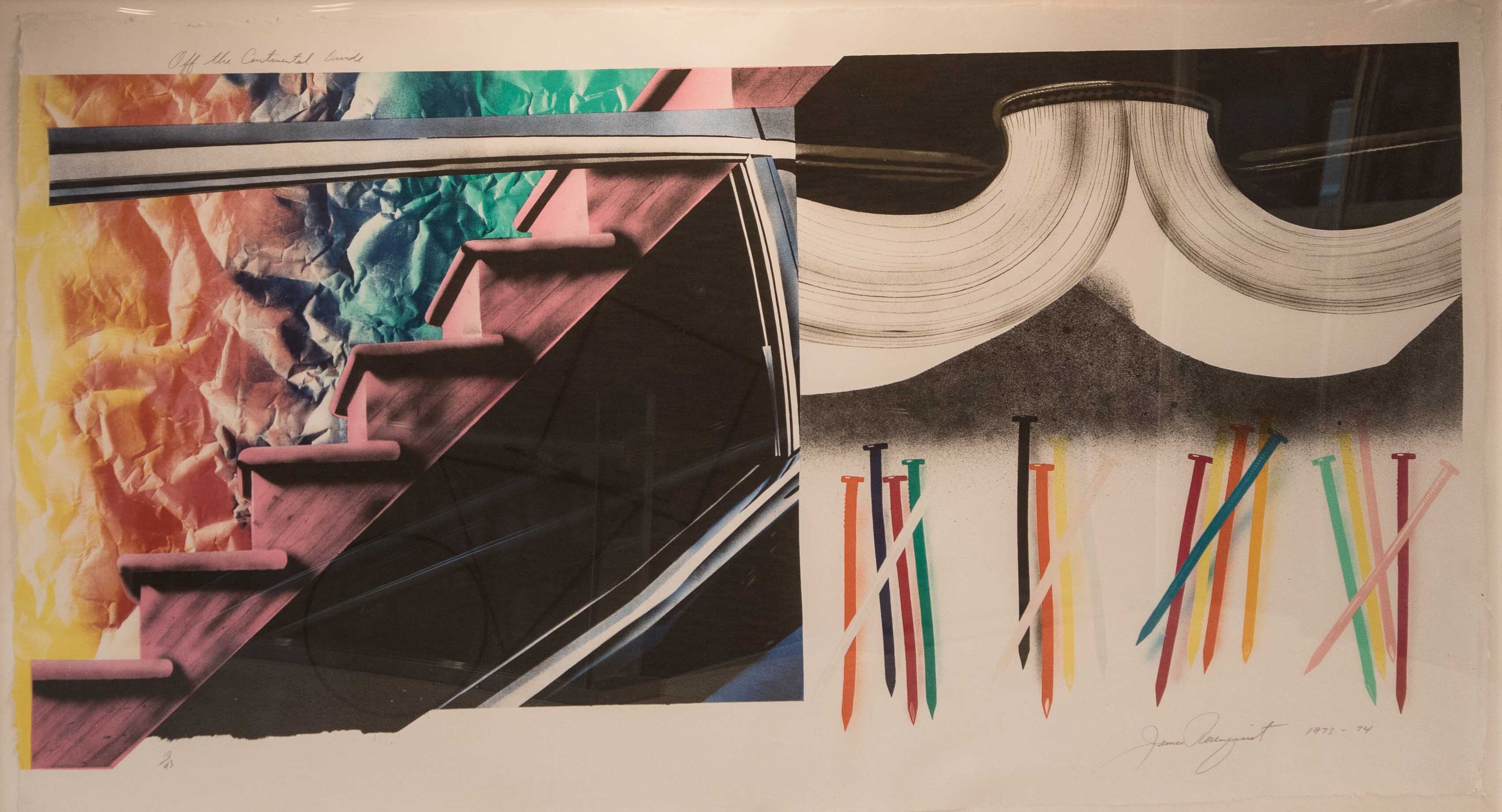 Work
Best known for his large-scale collage style compositions, James Rosenquist was gifted in painting, drawing, collages, and printmaking. Initially interested in abstract expressionism, in the late 1950s, he shifted his focus towards a brightly colored montage-like style of fragmented recognizable images, juxtaposed in surprising and often chaotic manner. His images are often borrowed from the worlds of media and advertising, especially from Life Magazine. His quest to invoke a sense of contemporary life earned Rosenquist the designation of pioneer of the 1960s Pop Art Movement, a label he reluctantly accepted. As Rosenquist himself explained that in contrast to Andy Warhol, he did not use images of well-known brand name products. Instead, he depicted a plethora of mundane and generic staples of everyday life, from lipstick to home appliances, with the goal of highlighting our focus on material things. Also unlike Warhol, Rosenquist painted rather than printed his images, most often partial and overlapping, as he considered it closer to how the human eye actually perceives the world around it, especially with the fast pace of places like New York.
Even though Rosenquist often downplayed the concepts and ideas behind his works, they are still rife with existential and other concerns. His massive work F-11 which stretched to 86 feet long took on the Vietnam War and the military-industrial complex against which Dwight Eisenhower warned the nation in his final Presidential address.
Off the Continental Divide is one of Rosenquist's existential and most autobiographical works. Quite large for a print, it is reported to have been the largest print at the time it was created in 1974, measuring more than six feet wide. Split down the middle, the piece appears as two works in one, creating two halves of East and West. Rosenquist often confessed that the print was about him and his conflicted state of mind. As a native of the Midwest, he was uncertain about where he belonged, pulled in opposite directions, drawn by the art scenes of both California and New York. The print includes other autobiographic elements. The steel frame of a car window stretches across the entire image and is inescapable regardless of where he chooses to go. After an automobile accident that nearly killed him and his family, Rosenquist often talked about feeling fragmented with "flurries of color" rushing through his mind. This and other irrevocable experiences clearly became his viewing lenses and were frequently expressed in his work. In Off the Continental Divide, a single work, Rosenquist captures this sense of fragmentation, as well as what Constantine Cavafy, the Great Greek Alexandrian poet, brilliantly captures in his poem "The City," that there is no escaping our albatross nor hiding from our experiences regardless where we go.
About the Artist
James Rosenquist was born in Grand Forks, North Dakota, in 1933. He was the only child of Louis and Ruth Rosenquist, who were of Swedish and Norwegian descent, respectively. With his father working as an airplane mechanic, the family moved often throughout the Midwest, eventually settling in Minneapolis when James was 11 years old.
Despite their limited means, Rosenquist's mother, an amateur painter with a keen eye, recognized her son's gift for drawing and encouraged him to take art classes. Early on, James won a scholarship for Saturday classes at the Minneapolis School of Art. At the age of 19, he began a two-year course in studio art at the University of Minnesota, while his summers were spent painting signs throughout Iowa, Wisconsin, and North Dakota. In 1955, at the encouragement of his teacher, Avant Gard artist Cameron Booth, Rosenquist applied for and won a tuition grant to the Art Students League in New York City where he was taught by such greats as German Dadaist and George Grosz, among others. In New York, he made a living as a billboard painter, creating huge ads for films, cars, and other products of the day. It was during his tenure as billboard painter that he developed his proclivity to large works.
In 1960, Rosenquist stopped working on billboards and focused on his own art. His first solo exhibition took place in 1962 at the Green Gallery in New York, launching his reputation as a leading figure of the Pop Art Movement, a label he reluctantly accepted. In 1960, he married textile designer Mary Lou Adams, a marriage that ended in divorce. In 1987, he married Mimi Thompson, with whom he lived until his death in 2017.
Rosenquist's adult life was marked by a series of traumatic experiences whose impact figures prominently in his art. In 1971, he survived a car accident that almost killed him and left both his wife and son in a coma for months. While living in Florida, a fire burned his home, his studio and more than ten years of work and archives. In 2010, he survived a bout of Rocky Mountain spotted fever, which wreaked havoc with his health and eventually led to his death in 2017. While Rosenquist spoke about these experiences nonchalantly, his art clearly reflects that they became the lens though which he viewed his life and the world.
Rosenquist continued to create art until his death in 2017. His work is included in many public and private collections around the world, including the National Gallery of Art in Washington, DC; the Museum of Modern Art in New York; and many others. Solo exhibitions have taken place at the Solomon R. Guggenheim Museum, the Museum of Modern Art, and the Whitney Museum of American Art in New York, the Guggenheim Museum Bilbao in Spain, The Museum of Fine Arts Houston, Denver Art Museum, Tretyakov Gallery, Museum Ludwig, Wallraf-Richartz Museum in Germany, among others. In 1963, Art in America named him "Young Talent Painter" of the year. In the 1970s, he was appointed to the National Council on the Arts, and in 1987, he was nominated to the American Academy and Institute of Arts and Letters. He was also politically active, lobbying for legislation to protect the rights of artists, and protesting the Vietnam War.