Orph
from Documenta portfolio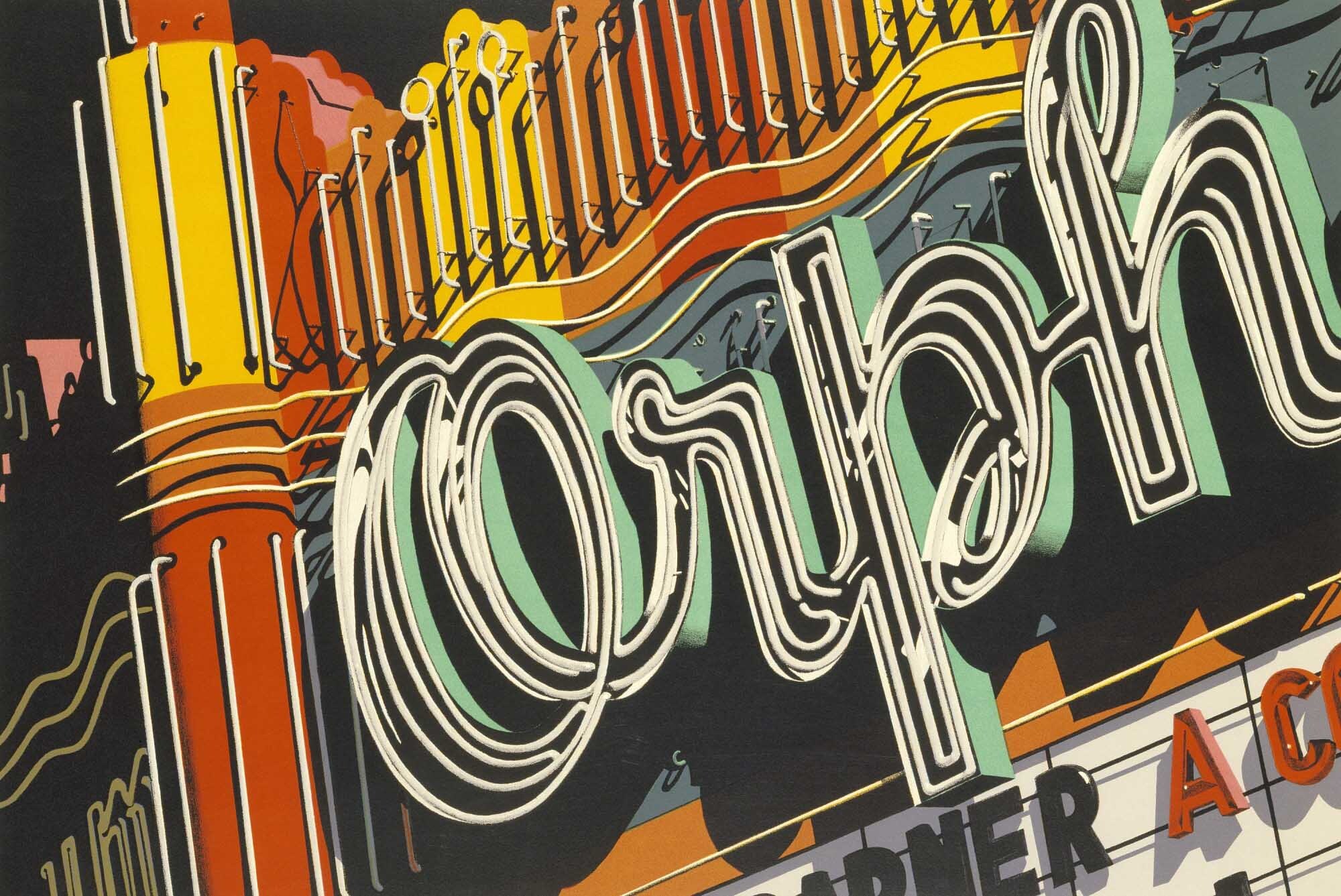 Work
While his painting repertory has been enhanced with a variety of items such as cameras, railroad boxcars, and others items that he calls "everyman's tools," Robert Cottingham is best known for his precisely rendered images of neon signs, movie marquees, store advertisements, architectural details, building facades, which invariably include text or lettering, and other elements of the American urban landscape, which he always paints as if looking at them from below and at a slant.
According to Guggenheim curators, the large size of Cottingham's pieces is reminiscent of the large scale in the work of James Rosenquist, while his interest in featuring letters or text in his work suggests influence by artists like Robert Indiana and Jasper Johns.
Cottingham's work is normally classified under the realm of photorealism, a genre that has its beginnings in the late 1960s and early 1970s, in which the artist creates his work on the basis of a photograph, reproducing it as realistically as possible in another medium.
By the early 1970s, Cottingham had risen to prominence in the photorealist movement. Despite the fact that he followed the photorealist process of creating his work on the basis of a photograph, Cottingham rejected the photorealist classification, viewing his work as belonging to the subject matter of Americana, along the lines of such vernacular Americana artists as Edward Hopper and Stuart Louis.
About the Artist
Robert Cottingham is best known for his Photorealist paintings of cropped commercial, and especially, neon signage. He was born in 1935 in Brooklyn, New York, and after earning a Bachelor of Fine Arts in advertising and graphic design from the Pratt Institute in 1963, he set out for a career in advertising that took him to Los Angeles.
In 1968, inspired by southern California's urban landscape, especially the glitz of the urban iconography in Hollywood's abandoned downtown area, Cottingham left commercial advertising and devoted himself to painting, wanting to capture and preserve evidence of the bygone pre-digital era. While it was not until Los Angeles that he decided to devote himself to painting, he attributes his fascination with signs to his childhood when his father would take him to Times Square.

Cottingham and his family lived for several years in London, but resettled in the United States, when Cottingham decided to limit his sign paintings to images from the US. Since 1976, he has been living and working on a farm in the small town of Newtown, Connecticut.
Cottingham also taught in Los Angeles and New York at the Art Center College of Design and the National Academy of Design, respectively. His work has been shown in many solo and group exhibitions throughout the United States, Germany, the United Kingdom, Korea and other countries, and in such institutions and museums as Documenta, Kassel, Germany; Serpentine Gallery, London, UK; the National Museum of American Art, Washington, DC; the Samsung Museum of Modern Art, Seoul, Korea; the Whitney Museum, New York, NY; and Deutsche Guggenheim, Berlin,Germany, to name a few. Furthermore, his work can be found in the collections of The Metropolitan Museum of Art in New York and the Smithsonian American Art Museum in Washington, DC, as well as Guggenheim Museum, the Whitney Museum of American Art, and the Hirshhorn Museum and Sculpture Garden.