Disguise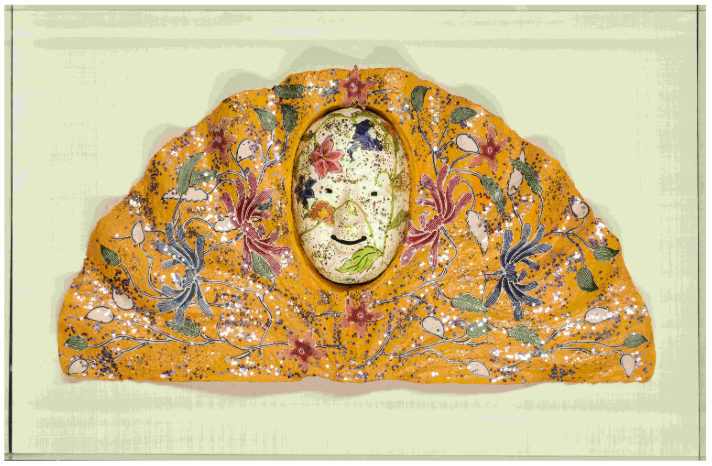 Work
The National Museum of Women in the Arts describes Miriam Schapiro as an artist who "challenged the dichotomy of 'high' art, denoting the works of known, predominantly male artists, and 'decorative' art, a term then used to relegate women to anonymity." It also considers that Schapiro's breakthrough came when she and fellow artist Judy Chicago created Womanhouse, presented in an abandoned mansion and displayed iconic items of housework, connecting the cultural heritage of women with "progressive feminist expression."
Schapiro was also a "founding mother" of the Pattern and Decoration movement, which honored the so-called "womanly arts," such as embroidery, quilting and others, wanting to bridge the gap between crafts and the arts.
Schapiro has often used the design of the fan as a unifying concept, as it is an item that spans time and culture divisions and gaps, since it is used by women across many periods and civilization. The particular variation of the fan is patterned and colorful fabric, acrylic paint, and glitter, with hand cast paper.
About the Artist
Painter, sculptor, and printmaker, Miriam Schapiro was instrumental in bringing about the feminist art movement in the 1970s. Born in Toronto, Canada, her artistic family of Russian-Jewish heritage supported her desire to become an artist, and Schapiro was taught art starting at the age of six by her father, an artist himself. During the Great Depression, the family moved to Brooklyn, NY, enabling her to take art classes at the Museum of Modern Art. Schapiro attended the University of Iowa where she received a Bachelor of Arts in 1945, a Masters of Arts in printmaking in 1946, and an Masters of Fine Art in painting in 1949. In Iowa, she studied with Argentine printmaker Mauricio Lasansky and also helped establish the Iowa Print Group. It is also where she met her husband, artist and educator, Paul Brach, with whom she moved to New York and had one son.
Eventually moving to southern California, she became a professor at the California Institute of Arts, where she established the Feminist Art Program with fellow artist Judy Chicago. The Institute was also the place where she developed the concept of the "femmage," a form of collage committed to the experiences of women.
The works of Miriam Schapiro have been exhibited in several museums, including Boston's Museum of Fine Arts, the Museum of Modern Art in New York, and the Steinbaum Krauss Gallery in New York. In addition, her work can be found in the collections of the National Gallery of Art and the National Museum of Women in the Arts in Washington, DC. She also received fellowships from the Guggenheim and the National Endowment for the Arts, several awards, and four honorary doctorates.