Guernica after Pablo Picasso
from the Gordian Puzzles series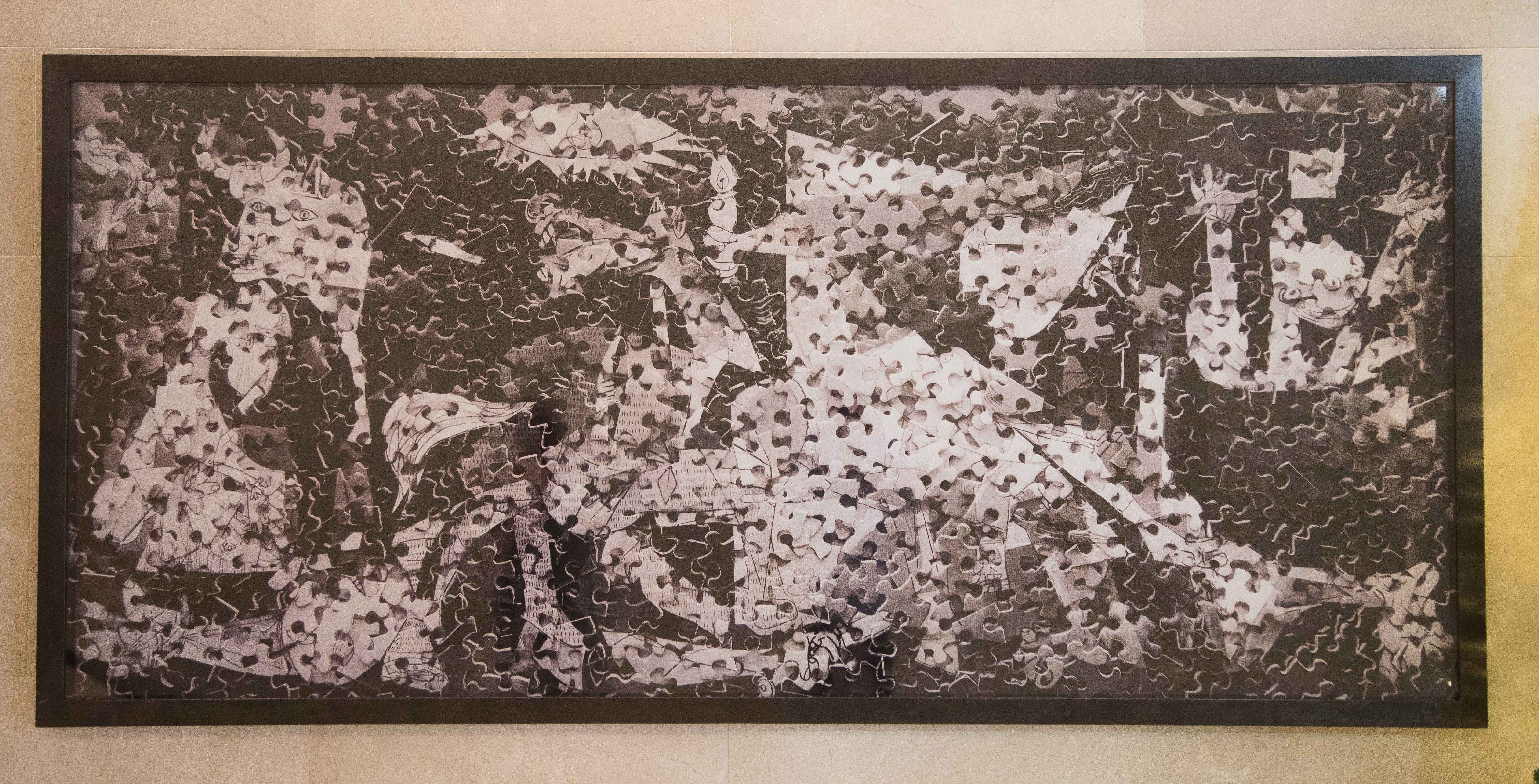 Work
Vik Muniz believes that there are no new visual ideas; only "an infinite amount of variations of very good existing ones." It is this philosophy that explains his heavy use of appropriation, the recontextualization of iconic images from the world of art and media, in conjunction with unexpected everyday materials, recreating established images and imposing his own sentiments and views upon them.
Appropriating images from art history, media, and everyday life, he manipulates and reconstructs them with such unexpected and yet mundane materials as sugar, chocolate, peanut butter, ketchup, dust, garbage, cut up postcards, puzzle pieces, occasionally caviar, and even the glitter of diamonds. Muniz imbues and saturates with additional layers of meaning and significance relating to social and political issues imbedded in the history of the everyday materials he uses, materials that the human race consumes.
Whether it is the means of harvesting or method of production, the materials he uses often hide stories of oppression and exploitation, such as is the case with sugar and diamonds, infusing the works with far more global significance than the locale in which they are conceived and created. The final works require distance between them and the human eye in order to allow for recognition. It is from such distance that Muniz commits his work to permanence by taking photos and discarding the original.
Believing in the power of art to raise awareness and bring about social change, Muniz uses his creativity to make the ills of the world more visible and give voice to the poor and disenfranchised, especially in Brazil. Among his most poignant works is his 2006 series Pictures of Junk, featured in the documentary Waste Land that follows Muniz for three years, which he spends creating large scale mosaic portraits with recycled trash from a landfill outside the city of Rio de Janeiro, selling the works at auction for the benefit of those who work picking recyclable materials from the landfill.
Muniz's Guernica is part of the Gordian Puzzles, a series where he has chosen such emblematic paintings as the Mona Lisa, Picasso's Demoiselles d'Avignon, and Seurat's La Grande Jatte. Guernica, consisting of hues that range from black to white and shades of gray, is recomposed with hundreds of single puzzle pieces laid out and layered in a way that is recognizable only from a distance.
About the Artist
Born in 1961 in São Paulo, Brazil, Vik Muniz is a conceptual and mixed media artist, and photographer. The only child of Maria Celeste, a telephone operator, and Vincente Muniz, a waiter, Muniz had a hard time with writing in school, turning to images in order to communicate his thoughts. He learned about art by borrowing books from his school library, and at the age of 14, he entered an art contest that won him a partial scholarship to an art studio.
At the early age of 18, Muniz got his first job in the advertising industry, redesigning billboards to make them more comprehensible to the viewer. In 1983, he moved with his family to New York, where he set out for a career as a sculptor, with his first solo exhibition in 1988. Over time, he became more interested in drawing and in photographic presentations of his work, eventually focusing completely on photography. Currently dividing his time between New York and Rio de Janeiro, Muniz has achieved great critical acclaim and his art is in high demand.
Muniz's work has been exhibited and can be found in the collections of prestigious museums and galleries around the world, including the Centre Georges Pompidou in Paris; the Guggenheim Museum in New York; The Tate Gallery in London; the Museo Nacional Centro de Arte Reina Sofía in Madrid; the Museum of Modern Art in New York; the National Portrait Gallery in Washington, DC; the Tate Modern in London; the Kasama Nichido Museum of Art in Japan; The Victoria and Albert Museum in the UK; and in many other countries such as Austria, China, Brazil, and Turkey. He has also participated in several biennials, including representing Brazil at the 49th Biennale in Venice, Italy.