Study of an Arab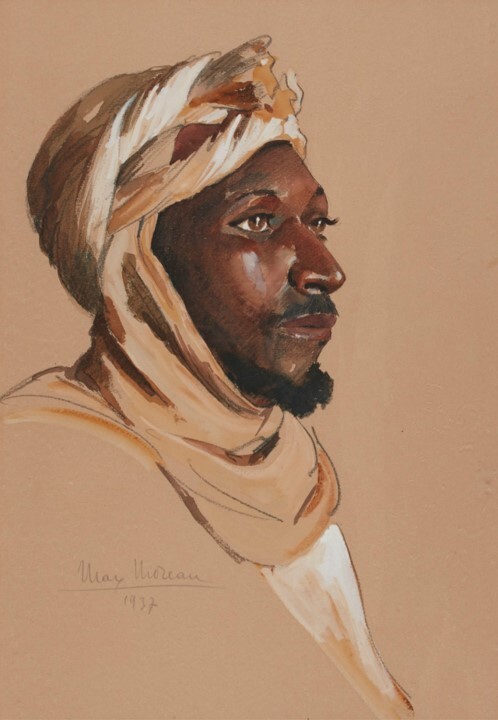 About the Artist
Highly acclaimed Flemish Belgian artist Max Moreau was born in the small town of Soignies, Belgium, in 1902. He was taught to paint by his father Henri Moreau, Belgian painter, who used his imagination to paint Native Americans despite the fact that he had never been to the United States, and apparently was a master at rendering the supposed nude masculinity of the native American.
Painter and portraitist in the Realist and Orientalist style, Max Moreau is best known for his whimsical and fluidly painted Parisian streetscapes, beautiful landscapes, and his portraits, especially of traditionally clad Arab men and women, mostly from the North of Africa.
When Max was still a child, the Moreau family moved to Brussels, where Henri Moreau exposed his son to the theater and museums, where the young man spent time reproducing works by Masters, such as Rembrandt, Velasquez, and others. He also painted the portraits of actors whose performances he attended.
While Moreau spent the last thirty years of his life in Granada, Spain, where his house has been converted into a museum celebrating his life and work, he travelled and worked extensively throughout France, northern Europe, in the north African nations of Tunisia and Morocco, as well as the United States. A kind and affable man, Moreau died in 1992, after battling Parkinson's for many years.
Moreau exhibited his work extensively in all countries which he visited and worked in, including the United States where he painted the portraits of such celebrities as Anthony Quinn, Henry Fonda, Tyrone Power, members of the Rockefeller family and others. His work can also be found in many private and public collections in many countries.