¿Dónde Están?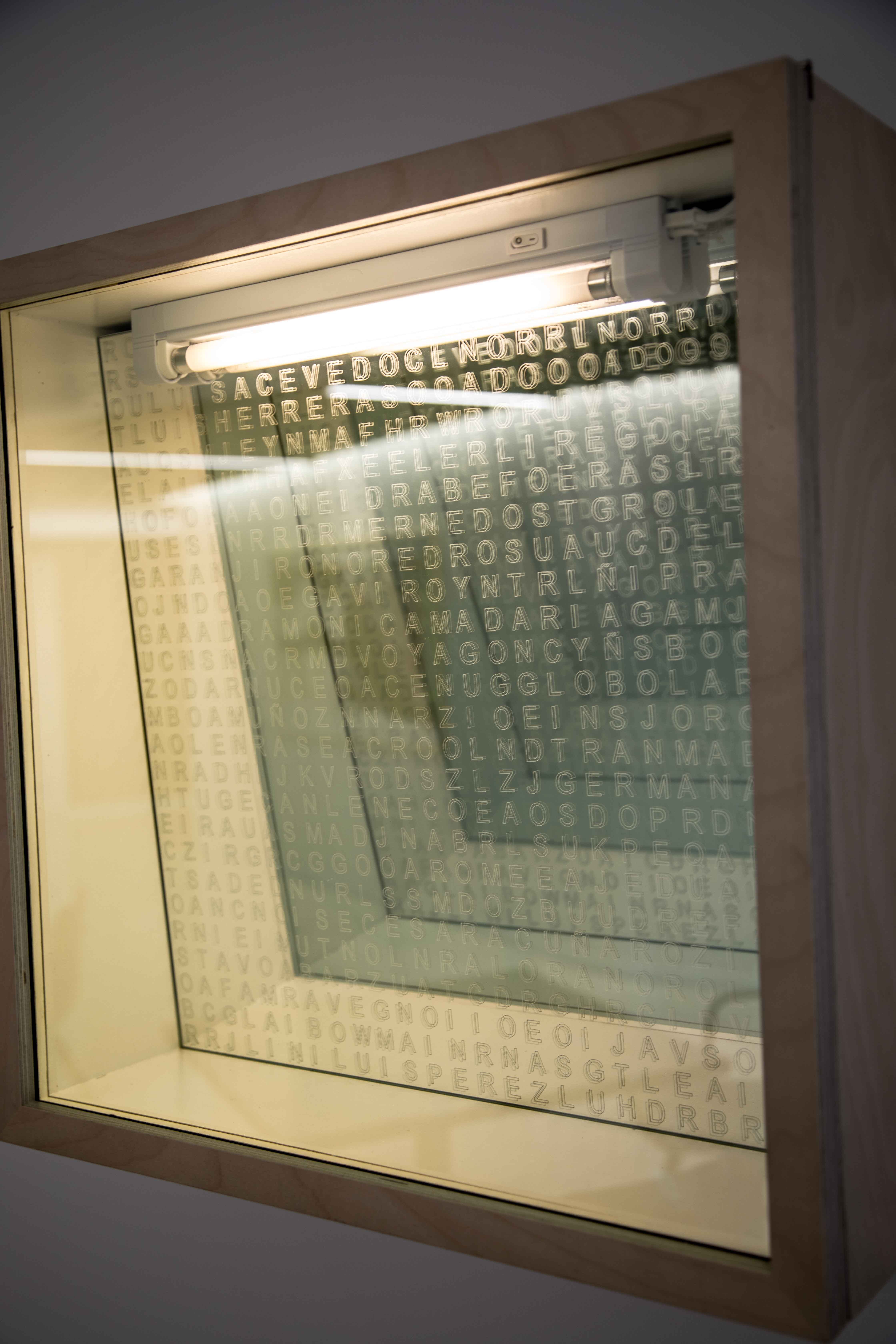 Work
Often drawn from his life under the Pinochet regime, Ivan Navarro's conceptual sculptures, contemporary, aesthetically pleasing, sleek, and seemingly benign, are marked by deceiving simplicity. On the surface, they exude style, coolness, and a certain detachment that may suffice for viewers who would rather not sift through uncomfortable depths. Navarro's artistic power, however, lies in the fact that his sculptures offer the viewer the option of delving deeply into truths and concepts, which are at once keenly personal and universal.
As with all conceptual artists, Navarro places greater value on the idea rather than the visual and aesthetic aspects of his work, and is brilliant at creating art that takes hold of the viewer aesthetically as well as psychologically. While navigating his own personal trauma of growing up in constant fear, and illuminating the collective psychological scars of his homeland, his works also resonate globally. They negotiate emotions and ideas all too common in the history of humanity, such as abuse of power, oppression, torture, fear, loss, the need for freedom, closure, awareness, and knowledge.
Even Navarro's materials are either inspired by or allude to the terror and torture inflicted by Pinochet on prisoners and the Chilean people. Using electricity, light, and infinity mirrors, he creates works that are as intimidating as they appear simple.
¿Dónde Están? (Where Are They?) incorporates some of these materials. Based on a large installation he presented in Santiago, Chile, in 2008, Navarro uses fluorescent light, glass, and infinity mirrors, and seemingly randomly placed letters of the alphabet.
From a distance, the minimalist piece of grayish green glass placed within a wooden frame and sprinkled with letters in simple font exudes contemporary simplicity. Closer observation reveals a more sinister side. Playing with his own particular preoccupation with "the disappeared," Navarro has the viewer hunt through these letters for the names of those who perpetrated crimes, torturing, and murdering political dissidents on behalf of the Pinochet regime. With mirrors creating the illusion of infinite concave space, and the letters getting away from us, and becoming increasingly smaller and more difficult to decipher, the viewer struggles to identify names that disappear into an abyss of same shape letters.
With these criminals never facing justice and continuing to live their lives in anonymity among the Chilean people, Navarro highlights the lack of closure that continues to traumatize thousands of people in his country; a darkness that protects the perpetrators and keeps the secret of the victims' fate, resulting in both of them remaining disappeared. While this riddle of a work draws you in and has you ponder the fate of those that vanished, it also inevitably makes you wonder whether any one of us really knows who walks among us.
About the Artist
Ivan Navarro was born in Santiago, Chile, in 1972, a few months before General Augusto Pinochet imposed a brutal 15-year dictatorship that traumatized the entire nation, and Navarro himself.
Under Pinochet's iron fist rule, hundreds of thousands of Chileans were imprisoned and tortured, including Navarro's own father, director of an art program at the State Technical University of Santiago. More than 200,000 people left the country, many were executed, and many vanished, never to be seen again. The disappearance of those suspected of opposing Pinochet especially traumatized the Chilean people, including the young Navarro, who spent his entire childhood in fear of being abducted and becoming one of the "los desaparecidos" himself.
Navarro studied art and received a degree in Fine Arts from the Catholic University of Chile in 1995. A visit to New York in 1997 convinced him to settle in the United States. His work has since gained international acclaim and has been exhibited throughout the US and in many countries, including Belgium, France, Italy, Spain, the United Kingdom, Turkey, Korea, Cuba, and New Zealand, among others. In 2009, Navarro represented Chile at the Venice Biennale. His work can be found in major museums and galleries, including the Hirshhorn Museum and Sculpture Garden in Washington, DC; the Solomon R. Guggenheim Museum in New York; the Virginia Museum of Fine Arts in Richmond, Virginia; Fonds National d'Art Contemporain in Paris; Towner Contemporary Art Museum in Eastbourne, UK; and many others in cities around the world.